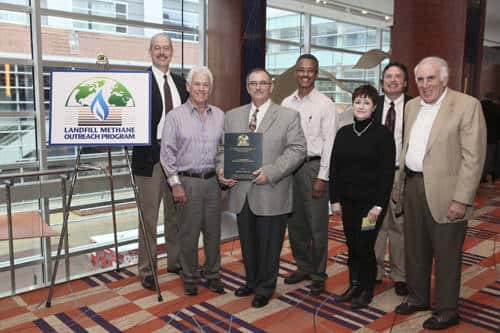 The St. Landry Solid Waste Disposal District, based in St. Landry Parish, La., has received the U.S. Environmental Protection Agency's (EPA) 2012 Landfill Methane Outreach Program (LMOP) Project of the Year Award for its initiative that converts landfill gas into compressed natural gas (CNG) for transportation applications.
In 2011, the district partnered with several private companies that specialize in turning landfill gas into CNG, including BioCNG LLC, GT Environmental Finance LLC, Aucoin and Associates, and Franklin and Associates. Unison Solutions Inc. manufactured the BioCNG unit.
These organizations implemented the BioCNG system, enabling the district to produce CNG fuel at less than half the cost of gasoline. The unit began operating in March 2012, and the fuel is used for the sheriff's department cars, light-duty trucks and a light-duty van, and the district's utility trucks.
The district's system can produce 250 GGE of CNG per day from 50 scfm of biogas containing 55% to 58% methane.