Los Angeles' Mayor Eric Garcetti has proposed a Green New Deal, which sets aggressive goals for the city's sustainable future, including for transportation.
L.A.'s Green New Deal calls for reductions in greenhouse-gas (GHG) emissions from the transportation sector: 25% by 2025 and 100% by 2050. Reductions in transportation emissions are accounted for through electrification targets and mode shift targets.
Garcetti's proposal calls for increasing the percentage of zero-emission vehicles in L.A. to 25% by 2025, 80% by 2035 and 100% by 2050 (with a baseline of 1.4% vehicles, as of September 2018). Under this target, milestones and initiatives include developing a zero-emission roadmap for LAX airport by 2021; distributing electric vehicle (EV) and EV charging rebates; installing 10,000 public EV chargers by 2022 and 28,000 by 2028; electrifying 10% of the city's taxi fleet by 2022 and 100% by 2028; transitioning to 100% zero-emission school buses by 2028; and transitioning to 100% zero-emission urban delivery vehicles by 2035.
In addition, the Green New Deal targets electrifying 100% of LA Metro's and LADOT's buses by 2030. (Including buses on order, the baseline is 4.6% for LA Metro and 8.2% of LADOT.) This includes electrifying LA Metro's Orange and Silver lines by 2021; introducing 155 new electric DASH buses for LADOT by 2021; and electrifying 100% of paratransit shuttle buses by 2026.
Next, the deal calls for reducing port-related GHG emissions 80% by 2050. Proposed milestones and initiatives include expanding the use of shore power or other emissions-capturing technologies to 100% of ships as part of other emission-reductions programs for ocean-going vessels by 2028; transitioning to 100% zero-emission cargo-handling equipment by 2030, as well as exploring rail electrification; and transitioning to 100% zero-emissions on-road drayage trucks by 2035.
To achieve these transportation goals, the city plans to partner with organizations including Liberty Hill, which will offer EV rebates in disadvantaged communities; URB-E, which provides electric scooters to replace delivery vans; the Los Angeles Cleantech Incubator, which is working with other California organizations to solicit information from companies looking to transition the goods-movement sector to zero-emissions; and CALSTART, which is supporting the rapid expansion of the DASH bus system, resulting in 112 new electric buses.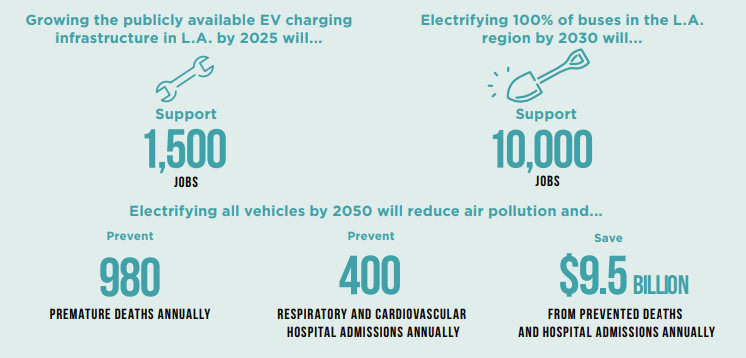 Regarding mode shift targets, the Green New Deal also lays out goals of increasing the percentage of all trips made by walking, biking, micro-mobility/matched rides or transit to at least 35% by 2025; reducing vehicle miles traveled per capita by at least 13% by 2025, 39% by 2025 and 45% by 2050; and ensuring the city is prepared for autonomous vehicles by the 2028 Olympic and Paralympic Games.
"We are changing the face of mobility for L.A. workers and families – because transportation accounts for 19 percent of our GHG emissions and is the top contributor to air pollution," the Green New Deal plan says. "These trends cannot continue."
Meanwhile, on the electricity side, Garcetti's plan calls for building a zero-carbon electricity grid: reaching an accelerated goal of 80% renewable energy supply by 2026 as it leads California to its goal of 100% renewables by 2045.