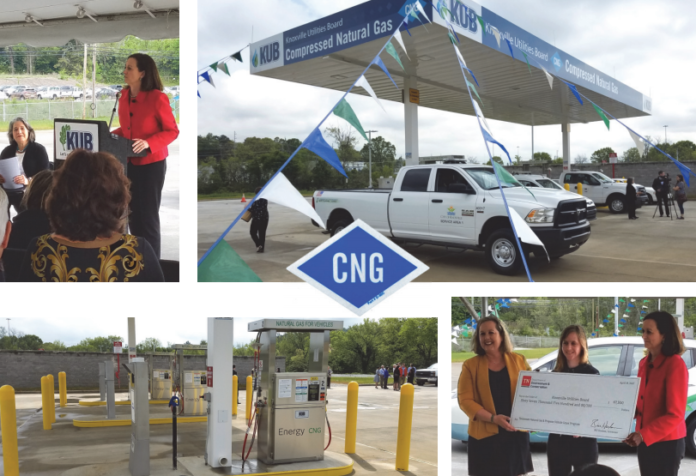 The Knoxville Utilities Board (KUB) held an event to celebrate the grand opening of the first public compressed natural gas (CNG) fueling station in the greater Knoxville area, Tenn.
According to Tennessee Clean Fuels, the event included a number of additional announcements, as the Tennessee Department of Environment & Conservation (TDEC) announced that KUB won a $67,500 grant for the purchase of three new CNG trucks, and the board affirmed its commitment to doubling the size of its CNG fleet by 2020.
In addition, the City of Knoxville – the station's first customer – and Mayor Madeline Rogero refueled a bi‐fuel city truck for demonstration purposes.
As reported, the station is easily accessible from I-75/I 640 and is located at 1820 Third Creek Rd. in Knoxville. Open 24/7, the station is Class 8 capable for large tractor-trailers and has two lanes for public fleets, with one lane dedicated to KUB's growing fleet of natural gas vehicles.
The station was designed and built by TruStar Energy, which also manages the station.
"We exist to serve our customers, and we do that by providing utility services, but we also recognize the importance of being good stewards of the environment," KUB President and CEO Mintha Roach says. "Opening this station means that customers now have a cleaner and more affordable transportation fuel option. This is not only good for the environment, but it also makes good business sense because the average cost of CNG is lower than gasoline or diesel."
With regard to the new grant funding, TDEC Deputy Commissioner Shari Meghreblian comments, "This past summer, TDEC's Office of Energy Programs launched a grant program to incentivize the purchase of natural gas- or propane-powered medium- and heavy-duty vehicles. By incentivizing the use of these cleaner-burning, alternative fuels,
TDEC will further support the reduction of transportation-related emissions in our state."
According to the company, KUB applied for and won funds for the purchase of three dedicated CNG Freightliner M2 dump trucks as part of the new additions planned for KUB's fleet.
Photo courtesy of Tennessee Clean Fuels – KUB president and CEO Mintha Roach discusses the station's benefits to the community while City of Knoxville Mayor Madeline Rogero looks on. A City of Knoxville CNG Dodge Ram awaits, refueling under the canopy. TDEC's Shari Meghreblian and Alexa Voytek present Mintha Roach with the check for grant funding. The dispensers are shown across the three islands where CNG is available.