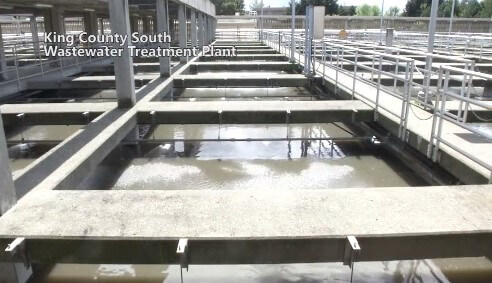 At its South Treatment Plant in Renton, King County, Wash., is reaping the benefits of purifying biogas into renewable natural gas (RNG) for use by commercial vehicles.
According to a press release from the county, RNG sales yielded more than $6 million in revenue for King County's Wastewater Treatment Division in 2017.
"We are demonstrating to the rest of the country how local governments can work together to build a sustainable, clean energy economy," says Dow Constantine, King County executive. "By producing renewable natural gas at our treatment plant, we are reducing greenhouse-gas emissions and the region's reliance on fossil fuels."
Clean Energy is currently delivering the RNG to its Washington fueling station network. Clean Energy's five stations fuel about 1.5 million gallons of RNG annually, sourced from this local production facility. One of the largest local end-users is Recology, an employee-owned waste management company that uses the RNG for its garbage trucks.
"Using renewable natural gas to fuel Recology trucks allows us to capture renewable resources, support local businesses and realize climate impacts that address our region's growing need to prioritize resiliency," says Kevin Kelly, general manager for Recology in King County. "Especially for collection services that require heavy-duty trucks traveling roads throughout our communities on a daily basis, renewable natural gas presents a sustainable solution that both Recology and our customers can feel good about."
King County claims it has been purifying and selling RNG from its South Treatment Plant for longer than any other wastewater facility in the country. Each year, the volume of RNG produced at the plant is the energy equivalent of about 1.7 million gallons of diesel fuel. King County notes that its Cedar Hills Regional Landfill in Maple Valley is also a large producer of RNG.