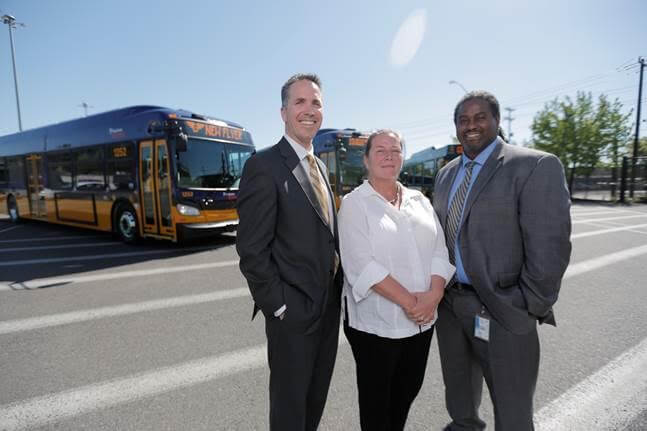 King County Metro (KCM) of Seattle has taken delivery of a 60-foot hybrid diesel-electric Xcelsior bus from New Flyer of America Inc.
The articulated bus is propelled by low-emission technologies that reduce air pollution and help evolve KCM's transit bus fleet with lower-emission solutions to help achieve its goal of an all-electric bus fleet by 2040, says New Flyer.
The Xcelsior platform was launched in North America in 2010. KCM currently operates diesel, diesel hybrid and electric trolley Xcelsior buses. Notably, this new order represents the build and delivery of New Flyer's 10,000 Xcelsior heavy-duty transit bus.
"New Flyer is proud to reach this manufacturing milestone as we continue to drive innovation in low- and no-emission transportation," says Wayne Joseph, president of New Flyer of America. "We are proud of our long-term partnership with Seattle King County Metro, having delivered over 1,500 buses since the late 1970s. Seattle has been a leader and visionary in leading sustainable transportation, and we look forward to advancing public transit in close collaboration with North American leaders like KCM, as it continues to build its zero-emission footprint in the community."
"King County is proud to provide cleaner, quieter transportation for the greater Seattle area, and New Flyer has been an essential partner in achieving these goals," says Rob Gannon, KCM's general manager. "We are happy to join New Flyer in celebrating this milestone."
In 2002, KCM was the first to adopt New Flyer's 60-foot diesel-electric articulated hybrid transit bus. Since then, KCM has introduced 236 of these hybrid-electric buses to the streets of Seattle. It also has 174 New Flyer electric trolleys in service in Seattle.