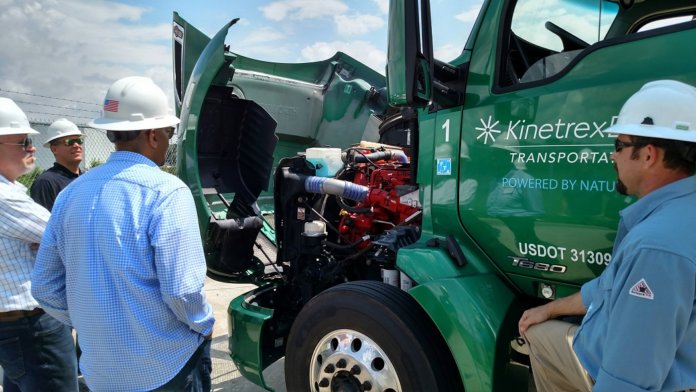 On June 19, Kinetrex Energy hosted the Greater Indiana Clean Cities LNG – Truck/Plant Demonstration Event at the company's south plant in Beech Grove, Ind.
Kinetrex Energy produces liquefied natural gas (LNG) and operates a fleet of LNG day cabs. The plant tour and workshop was an opportunity for attendees to learn how LNG is made, see a demo of an LNG truck, ask drivers questions and gain a better understanding of how LNG works with Class 8 trucks.
"We believe LNG and liquefied renewable natural gas (LRNG) are the best options to fuel Class 8 trucks," says Aaron Johnson, CEO of Kinetrex Energy. "Many folks know that LNG and LRNG are great fuels for our environment, while selling for $1 a diesel gallon equivalent. These demo days also show that LNG and LRNG are practical and simple to use."
The event was held by Greater Indiana Clean Cities. Greater Indiana – designated as a Clean City Coalition by the U.S. Department of Energy in August 1999 – hosts educational and networking events fostering opportunities for partnerships between fleets and industry providers.