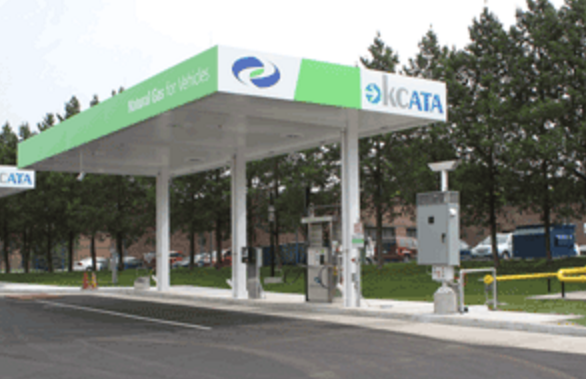 The Kansas City Area Transportation Authority (KCATA) has announced a recent milestone: RideKC buses have used the equivalent of 1 million diesel gallon equivalents (DGEs) of compressed natural gas (CNG) since starting to use the fuel in August 2014.
As reported, the move from diesel to CNG fuel is creating cost savings and environmental benefits. By reaching the milestone of 1,000,000 DGEs of CNG, the agency reduced its greenhouse-gas emissions by 1,870 metric tons – the equivalent of taking 395 passenger cars off the road for one year. KCATA estimates it has saved $1.2 million over the cost of diesel fuel since making the change.
"The decision to switch to compressed natural gas allows us to be even better stewards of taxpayer money and of the environment," says president and CEO Robbie Makinen. "We will continue to look at innovative fleet options to build on this success."
KCATA has a partnership with Clean Energy Fuels, a provider of natural gas fuel for transportation, to monitor and maintain the fueling station. At the time it was built, the CNG fueling station was the largest fast-fill station in Missouri and is still the largest in the Kansas City region. As reported, the station allows buses to be fueled in less than seven minutes.
The agency currently has 44 CNG buses in its fleet and is adding 20 more this year. The agency notes that the CNG vehicles have been phased in as older diesel buses were retired.