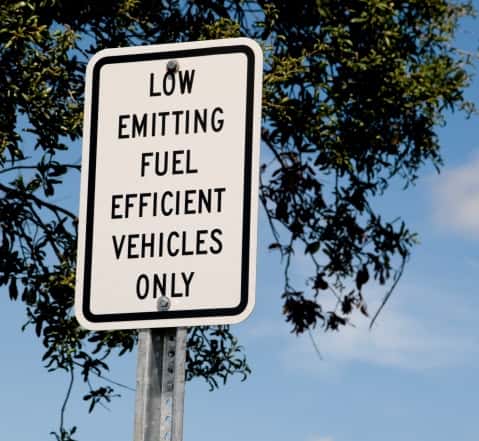 On Tuesday, the Obama administration announced that it had finalized the national fuel-efficiency standards for passenger cars and light trucks, mandating an average fuel economy of 54.5 mpg by 2025.
Environmental Protection Agency Administrator Lisa P. Jackson and U.S. Department of Transportation Secretary Ray LaHood, who called it a 'monumental day,' held a press conference to discuss the regulations. The new mandate, which covers model years 2017 to 2025, builds on standards implemented in 2010 that require automakers to reach an average fuel economy of 35.5 mpg by 2016.
According to Jackson, the final rule – which is largely unchanged from the proposed language set forth in November 2011 – will help 'ensure the progress continues.'
'There are steeper reductions in earlier years for cars than there are for trucks,' she noted. 'But they catch up.'
The officials said multiple stakeholders, notably the Big Three and the United Auto Workers, have been on board all along in the crafting of the regulations. For their part, automakers asked for certainty in standards, so they could make the right level of investment at the right times.
'They know that the government can help consumers,' Jackson said, adding that the automakers' customers are increasingly seeking fuel-efficient options to contend with rising gasoline prices. The new standards, the officials said, will help ensure that such vehicles are available.
The Obama administration says the 54.5 mpg goal will make 2025's vehicles nearly twice as fuel-efficient as they are today. In turn, U.S. consumers will save more than $1.7 trillion in fuel costs, and U.S. oil consumption will decrease by 12 billion barrels.
'These fuel standards represent the single most important step we've ever taken to reduce our dependence on foreign oil,' the president said, in a statement.
Groups such as the Union of Concerned Scientists have come out in support of the regulations, noting that the mandate will also reduce the U.S.' global warming pollution by up to 570 million metric tons in 2030.
'This is truly a watershed moment,' said Michelle Robinson, director of UCS's clean vehicles program. 'Twenty years from now, we'll be looking back on this as the day we chose innovation over stagnation.'
The Diesel Technology Forum, a nonprofit focused on raising awareness about diesel engines, fuel and technology, was similarly enthused.
'Meeting these fuel efficiency targets will likely require diverse technology solutions, and we're extremely confident that clean diesel technology is one of those solutions,' said Allen Schaeffer, the organization's executive director.
'Because clean diesel autos are 20 to 40 percent more efficient than gasoline vehicles, diesel will be a major player in the nation's effort to achieve the new mileage standards,' he noted.
Others, such as the American Energy Alliance and the Institute for Energy Research, were not quite as complimentary.
'This is an undemocratic, dangerous and costly decision,' the IER's Daniel Simmons said. 'The federal government has a responsibility to provide information about fuel economy, but not the responsibility to dramatically limit people's automobile choices because of the administration's anti-fossil-fuel agenda.'