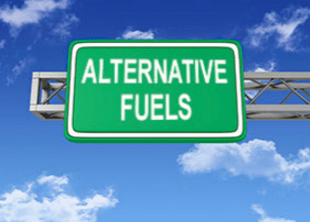 The U.S. Department of Transportation's Federal Highway Administration (FHWA) has officially announced 55 routes that will serve as the basis for a national network of alternative fuel corridors spanning 35 states.
The FHWA says that the network is nearly 85,000 miles long, and more miles will be added in the future to accommodate electric, hydrogen, propane and natural gas vehicles as additional fueling and charging stations are built.
"Alternative fuels and electric vehicles will play an integral part in the future of America's transportation system," says U.S. Transportation Secretary Anthony Foxx. "We have a duty to help drivers identify routes that will help them refuel and recharge those vehicles, and designating these corridors on our highways is a first step."
The FHWA intends to support the expansion of this national network through a process that does the following:
Provides the initial opportunity for a formal corridor designation now and in the future on a rolling basis, without a cap on the number of corridors;
Ensures that corridor designations are selected based on criteria that promote the "build out" of a national network;
Develops national signage and branding to help catalyze applicant and public interest;
Encourages multistate and regional cooperation and collaboration; and
Brings together a consortium of stakeholders, including state agencies, utilities, alternative fuel providers and car manufacturers, to promote and advance alternative fuel corridor designations, in conjunction with the U.S. Department of Energy.
According to the FHWA, those corridors designated as "sign-ready," meaning routes where alternative fuel stations are currently in operation, will be eligible to feature new signs alerting drivers where they can find fuel for their alternative fuel vehicles. These signs are similar to existing signs that alert drivers to gas stations, food, lodging and other essentials. As reported, the designation of these corridors fulfills a directive in the Fixing America's Surface Transportation (FAST) Act, a five-year, $305 billion surface transportation bill signed into law on Dec. 04, 2015, by President Barack Obama.
In July, as previously announced, Secretary Foxx called on states to nominate national plug-in electric vehicle charging and hydrogen, propane and natural gas fueling corridors along major highways. The specific fuels were designated by Congress in the FAST Act.
By supporting lower-emission vehicles, alternative fuel corridors will help to reduce transportation emissions, the leading source of U.S. greenhouse-gas emissions, and will help the nation meet its goal of reducing emissions by 80% or more by 2050.
According to new FHWA data, U.S. drivers consumed nearly 72 billion gallons of gasoline in the first half of 2016 – a 3% increase over the same period a year earlier and the largest percentage increase in nearly two decades – and drove more than 3.15 trillion miles last year.
"Identifying where alternative fueling stations can be found will help the public in many ways," says Federal Highway Administrator Gregory Nadeau. "This initial designation sets the stage for the next round of nominations early next year and begins a conversation with stakeholders about developing and implementing a vision to enable coast-to-coast travel using alternative fuels."
The new signs and a list of the new sign-ready corridors can be found here.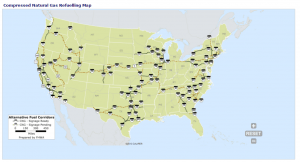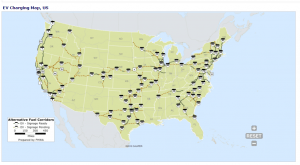 Maps courtesy of the FHWA.