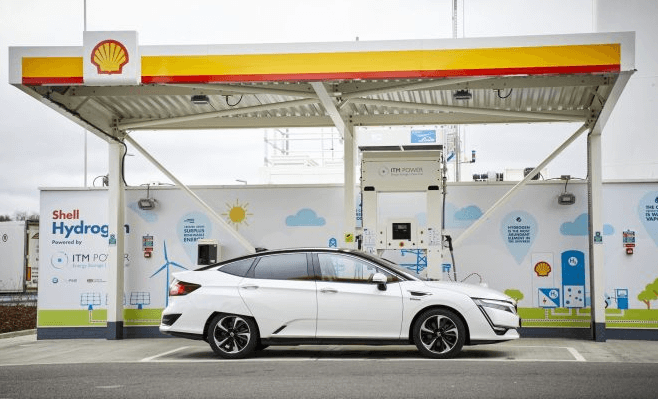 ITM Power, an energy storage and clean fuel company, has signed a hydrogen fuel contract with Honda U.K. As reported, the automaker will purchase hydrogen at a price of 10 British pounds per kilogram, or $12.91/kg.
ITM Power says the contract covers fuel dispensed across its hydrogen refueling network, which has been financially supported by Innovate UK, Office for Low Emission Vehicles, and the Fuel Cells and Hydrogen Joint Undertaking.
ITM Power notes that this is the 17th fuel supply contract for refueling fuel cell electric vehicles it has signed.
Honda joins Toyota GB PLC, Hyundai Motor U.K. Ltd., Commercial Group, Skanska, UlemCo Ltd., Arval U.K. Ltd., U.K. Government Car Service, Arcola Energy, Johnson Matthey, Europcar, The Science Museum, JCB, Anglo American, Green Tomato Cars, Yorkshire Ambulance Service and Northern Gas Networks as a fuel customer.
ITM Power is currently rolling out a network of 10 hydrogen refueling stations in the U.K., four of which are now open for public access. Each station produces hydrogen on-site via ITM Power's rapid response electrolyser system and can refuel a fuel cell electric car in three minutes, providing between 300 miles and 420 miles of clean emission driving, without compromise to drivers' normal refueling routine.
Graham Cooley, CEO of ITM Power, says, "We look forward to supporting Honda and its HyFIVE customers with their refueling requirements for the Clarity Fuel Cell as our hydrogen refueling station network expands throughout the U.K."
Thomas Brachmann, automobile powertrain and materials research expert at Honda R&D Europe (GmbH), adds, "We are delighted that customers using Honda's Clarity Fuel Cell in the HyFIVE project can refuel at ITM Power's hydrogen refueling stations. Working together with industry partners, such as ITM Power, drivers of fuel cell vehicles can enjoy rapid refueling at one of the growing number of stations across the U.K."