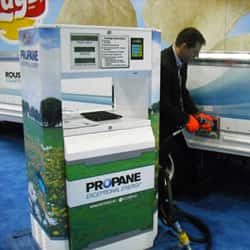 Although natural gas bi-fuel vehicles have been grabbing headlines recently, propane autogas proponents contend that their technology offers similar fuel-cost savings and low-emissions benefits while also providing performance comparable to gasoline engines.
Unlike compressed natural gas (CNG), which does not yet have an abundant publicly accessible network of vehicle fueling stations, propane is more widely available and can be dispensed for a lot less cost, say advocates. Efforts to develop a wider choice of easy-to-use fuel-dispensing options are timely, as the range of propane-powered trucks is expanding to include more and larger medium-duty vehicles.
Freightliner Custom Chassis Corp. (FCCC) recently introduced its S2G liquid propane-fueled chassis, with limited production to begin later this year. Offering a gross vehicle weight rating of up to 33,000 pounds, the S2G chassis' initial market is expected to be bobtail propane delivery trucks, with Type C bus, pickup-and-delivery and terminal-tractor applications to follow, according to Tucker Perkins, president and chief operating officer of CleanFuel USA of Georgetown, Texas.
CleanFuel USA developed the liquid propane fuel injection system used on the S2G's 8.0 L engine, which is based on General Motors' long block and customized by Powertrain Integration of Detroit, another FCCC partner on the S2G.
'It generates 325 horsepower and 450 foot-pounds of torque,' says Perkins, adding that propane's 105 average octane rating provides full combustion and burns clean with low emissions.
Perkins points out that because propane can be stored as a liquid at lower pressure than CNG, less expensive steel storage tanks can be used (compared to the carbon-fiber composite tanks usually required for CNG). The 60-gallon tank on the S2G's frame rail offers about 90% of the range of the same-sized gasoline tank – a result of propane's slightly lower energy density.
Although he is proud of the engine's reduced emissions, Perkins says the biggest benefit is cost.
'It's much less expensive for fuel and infrastructure. It's the lowest-cost alternative fuel in the marketplace today,' he asserts.
Perkins has expertise on that subject as well, because CleanFuel USA also manufactures propane autogas dispensers and fueling infrastructure. The company's self-service dispenser options range from $10,000 for the basic CFT Pro 2100 fleet unit up to $50,000 for the CFT Pro 6100 and 7100 pumps. All models feature a price-programmable electronic keypad, passcode operation, electronic calibration and communication integration with all common fuel-management systems. Fully assembled dispenser-and-tank skid packages are available, ready to install.
'That's a relatively low cost of entry,' notes Al McFadden, corporate director of business development for CleanFuel USA. 'Many propane distributors will supply the infrastructure at no or minimal cost, with a fuel contract,' he adds.
The Propane Education and Research Council (PERC), a Washington, D.C.-based nonprofit that promotes the safe and efficient use of propane fuel, was another partner with FCCC on the S2G.
Darren Engle, co-chair of PERC's research and development technology working group and marketing director for a propane sales and service company, confirms McFadden's assertion.
'The fueling infrastructure is minor, so many marketers will install it at little or no cost if a fleet signs a fuel contract,' Engle says.
The big advantage of propane autogas, these experts agree, is the significantly lower cost of fueling infrastructure compared to fast-fill CNG fueling facilities, which Engle says often range from $500,000 to $1.5 million.
Propane already has a niche fueling forklifts, airport equipment, shuttle buses and taxis, but part of the struggle for its wider adoption is the perception of propane as a fuel more suited for home heating and cooking. PERC aids the effort to brand the transportation fuel as propane autogas – commonly a blend of 90% propane and 10% butane – and encourages its marketing and pricing on a scale consistent with the reduced overhead cost per gallon that applies to large-scale users such as fleets, and not based on the dealer's cost of filling and handling five-gallon containers intended for barbecue grills.
Propane autogas is widely available, even without establishing a private fueling station. There are more than 3,000 public propane autogas refueling stations in the U.S. – more than any other alternative fuel, PERC data notes.
Roush CleanTech, one of the enterprises created by motorsports legend Jack Roush, is an OEM-approved supplier of alternative-fuel vehicle products based in Livonia, Mich. Since 2006, the company has developed dedicated liquid propane autogas fuel systems for Ford F-250 and F-350 pickup trucks; Ford E-150, E-250 and E-350 vans and wagons; and Ford's E-350 and E-450 cutaway series.
Roush CleanTech also offers autogas-fueled Blue Bird Vision and Micro Bird G5 buses. These vehicles are powered by 5.4 L V8, 6.2 L V8 or 6.8 L V10 engines, depending on the model. Soon these offerings will be expanded to include larger medium-duty vehicles, such as the Ford F-450, F-550 and F-650 chassis cab series, plus the Ford F-59 stripped chassis – all utilizing the 6.8 L V10 engine prepped for autogas.
'Propane is remarkably unremarkable compared to gasoline,' says Todd Mouw, Roush CleanTech's vice president of sales and marketing, who also is president of the Green Truck Association, an affiliate of the National Truck Equipment Association that serves as a resource for green trucks and advanced fuel technologies.
More than 90% of propane used in the U.S. is produced in North America. Mouw says about 70% comes from natural gas production, and the remainder is a by-product of petroleum refining – so the supply is abundant. He adds that the U.S. exported a billion gallons of propane last year.
For Mouw, the price differential between propane autogas and gasoline 'is a huge win for a fleet,' with propane currently selling for less than $2.00/gal. Compared to $3.75 or more for a gallon of gasoline, and even deducting the 10% to 15% loss in thermal energy relative to gasoline, the equivalent cost savings amounts to approximately $1.50/gal.
'Fleets can see the benefits,' Mouw continues. Propane-powered vehicles offer low costs of accession and operation, low on-site fueling costs and reduced vehicle emissions.
'Case studies show it works; there's no need to be a guinea pig,' he concludes.
Photo credit: Darren Engle, co-chair of PERC's research and development technology working group, demonstrates fueling a Roush CleanTech propane autogas Ford E-350 cutaway owned by Frito-Lay. Photo by Eric Brothers.