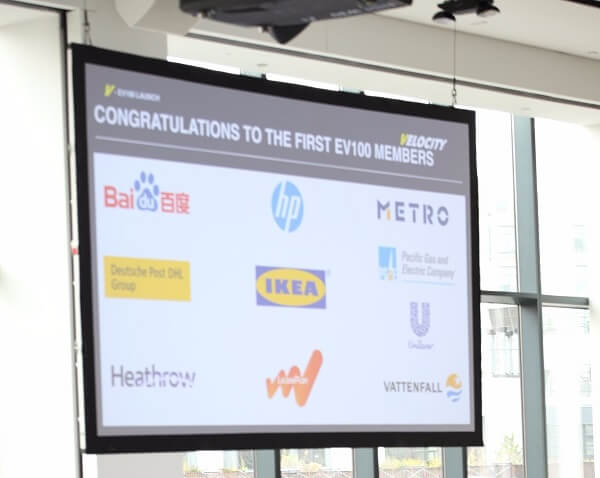 A number of large multinational organizations have come together to form EV100, a new campaign designed to expedite the deployment of electric vehicles and associated recharging infrastructure.
Baidu, Deutsche Post DHL Group, Heathrow Airport, HP Inc., IKEA Group, LeasePlan, METRO AG, PG&E, Unilever and Vattenfall are the 10 first members of the group. These organizations and those that join EV100 in the future are committing to shifting their large diesel fleets to EV fleets and/or installing electric battery charging infrastructure by 2030.
"EV100 will use companies' collective global buying power and influence on employees and customers to build demand and cut costs," explains Helen Clarkson, CEO of The Climate Group. "The members…see the business logic in leading a faster transition and addressing local air quality issues in their markets. They are setting a competitive challenge to the auto industry to deliver more EVs, sooner and at lower cost."
International leasing company LeasePlan is committing to transition its own fleets, as well as those of its customers, as part of its ambition to achieve net zero emissions from the corporate automotive sector by 2030. Vattenfall is working to transition its corporate fleet to EVs over the next five years, while Deutsche Post DHL Group has invested in its own vehicle manufacturer, StreetScooter, to supply specialized postal vans for its operations.
Companies joining EV100 make a public commitment to fast-track EV uptake in one or more of the following four commitment areas by 2030:
Integrating electric vehicles directly into owned or leased corporate fleets
Placing requirements in service contracts for electric vehicle usage
Supporting staff to use electric vehicles (by installing workplace charging infrastructure)
Supporting electric vehicle uptake by customers (by installing customer charging infrastructure)
"With nearly 300,000 electric vehicles already on California's roads and bold goals for the future, we are at the forefront of the transition to a low-carbon transportation sector," says Melissa Lavinson, CSO of PG&E Corp. "By expanding the state's EV infrastructure and operating a clean transportation fleet, PG&E will continue to help California meet the climate challenge, while making it more convenient for our customers to choose clean, affordable electricity to fuel their vehicles."