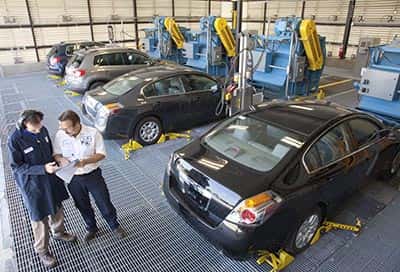 The San Antonio-based Southwest Research Institute (SwRI) has been awarded a five-year, $20.16 million contract by the U.S. Environmental Protection Agency (EPA) to evaluate vehicles, fuels and additives to ensure regulatory and safety requirements.
SwRI says it can test all types of fuels and additives, including conventional and reformulated gasoline and diesel fuels; alternative fuels such as methanol, ethanol, compressed natural gas, liquefied natural gas, liquefied petroleum gas, hydrogen and blends of hydrocarbon fuels; and electricity (supplied from batteries or fuel cells) for electric, partial electric, and non-electric hybrid vehicles.
SwRI says it can develop test procedures and equipment for regulated and unregulated emissions in light- and heavy-duty vehicles and components, as well as marine, railway, aircraft, small engine, and other non-highway propulsion systems. Technical services include evaluating prototype vehicle propulsion systems and related control, data acquisition, and sampling systems.
"The scope of this contract is quite broad," says Patrick Merritt, a principal scientist at the institute. "It encompasses 25 areas, from fuels and lubricants to engine and emissions characterizations, as well as economic studies, general rule-making support, and coordinating peer review meetings."
Photo courtesy of the Southwest Research Institute