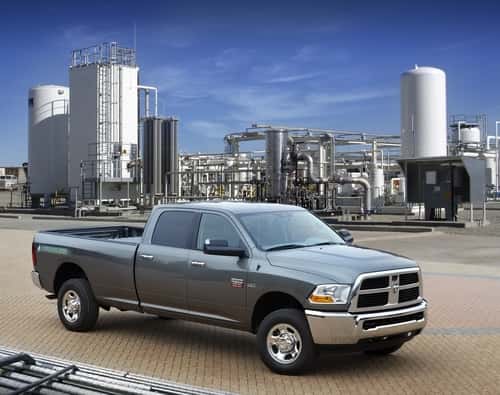 Last week, Oklahoma Gov. Mary Fallin and Colorado Gov. John Hickenlooper announced the preliminary results of the landmark multi-state request for proposals (RFP) for vehicles that run on compressed natural gas (CNG). So far, the buzz has been tremendous, as this initiative is aimed squarely at nudging natural gas vehicles (NGVs) into the mainstream.
Ford, Chrysler, GM and Honda dealerships in 28 states submitted more than 100 bids in response to the RFP. Twenty-two states have thrown support behind the effort, seeking to pool their buying power and ultimately NGV innovation at the OEM level.
'The initiative has been enormously successful,' Fallin said in a statement. 'We asked auto manufacturers to develop products that were more affordable and functional. With the combined purchasing power of our 22 states, we successfully provided the incentive to do so. States will now have the incentive and ability to begin converting their fleets to CNG while saving millions of dollars in taxpayer money.'
NGT News spoke to Jay Albert, Oklahoma's deputy secretary of energy, who echoed the governor's sentiments.
'These results are extraordinarily encouraging,' he said, noting in particular that he was most heartened that bids came in from each state that requested one, as well as from dealers in states that didn't sign on to the original memorandum of understanding or RFP.
The bids received in Oklahoma, specifically, reflect cost reductions of existing NGV platforms:
3/4-ton ton pick-ups: a 16% reduction (per-unit savings of $5,800)
1-ton vans: down 11% ($3,700 savings)
3/4-ton vans: down 8% ($2,700 savings)
compact sedans: down 8% ($2,100 savings)
transit cargo vans: down 4% ($1,200 savings)
All the parties to this initiative – from Fallin and Hickenlooper, to all the others states' governors, to the dealerships and NGV supply chain – have been optimistic since the RFP went out in July. However, the consensus – in Oklahoma, for sure – is that the bidding activity exceeded expectations.
'My general impression was that this was going to be challenging,' Albert said, acknowledging that the states are seeking to effect a profound change in the largely implacable diesel/gasoline fueling paradigm.
In turn, to have such a high quantity and quality of bids is a strong early sign of the initiative's long-term potential. For instance, the base-price bid from Oklahoma's John Vance Motors for Chrysler Group's 3/4-ton Ram 2500 CNG bi-fuel pickup truck is $29,993. Just a year ago, the same model – a 4×4 crew cab with the 5.7-liter HEMI V8 – as a converted NGV was more than $36,000.
Albert said there are 'several hundred' 3/4-ton and one-ton pickups in Oklahoma's fleet. Chrysler, Ford and GM dealers all submitted bids for the former platform, and two Ford dealers submitted bids for CNG F-350s. With the competitive pricing being offered, it is likely that CNG will work its way into more of the state's heavy-duty pickups.
Looking at Oklahoma's fleet overall, full-size sedans and 1/2-ton pickups represent the largest piece of the 11,000-vehicle fleet. However, bids for these platforms were not submitted – not in any state. Why? Simply put, the OEMs do not have these NGVs – they are currently a pure aftermarket play.
The multi-state initiative is trying to change that scenario and open up the full spectrum of vehicle platforms to OEM CNG offerings.
'The OEMs are saying, 'Show us the demand is there for the products we already have, and we'll be more likely to get you the other ones,'' Albert remarked.
So, in time, the composition of Oklahoma's fleet could change dramatically. Of the 11,000 units in circulation today, 38% have more than 100,000 miles on the odometer, largely because of budget constraints and a slowdown in fleet replacement. But normally, Oklahoma switches out 500 to 750 vehicles a year.
Fallin has told the state's fleet managers to not close any new vehicle purchases until they have looked at CNG – and to buy NGVs if it makes sense for the application. 'Significant increases' in the state's complement of NGVs – currently at about 100 vehicles – are probable over the next year, Albert said.
'There could be a substantial volume just here in Oklahoma,' he noted, adding that demand for NGVs from state's municipal and county government fleets – which can generally also take advantage of the bids – will also swell.
In terms of pinpointing just how many NGVs will be sold as a result of the RFP process, hard and fast numbers are elusive. The state, county and municipal fleet managers are going to take the bids to their offices and crunch numbers. Now that pricing information is available, all of these organizations will try to meet – or perhaps exceed – the NGV acquisition targets they envisioned when this process began.
Photo: The 2012 Ram 2500 bi-fuel CNG pickup. Courtesy of Chrysler Group.