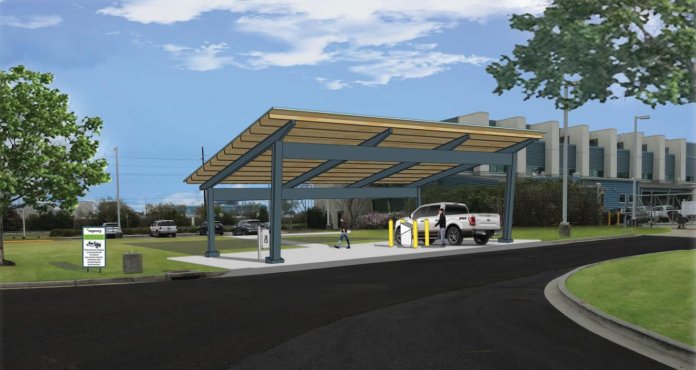 Ingevity has completed the construction of a low-pressure adsorbed natural gas (ANG) fueling station at its global headquarters and technical center in North Charleston, S.C.
The fueling station will supply natural gas to ANG bi-fuel vehicles outfitted with storage cylinders containing Ingevity's Nuchar FuelSorb activated carbon monoliths.
ANG technology is facilitated by Ingevity's activated carbon, which reduces the storage pressure of natural gas without sacrificing the volume of gas. Ingevity has produced and sold activated carbon for more than a century, including over 40 years in the automotive market capturing gasoline vapor emissions on vehicle-based systems.
"Low-pressure ANG allows for a paradigm shift in the use of natural gas as a transportation fuel and enables safe, economic fueling using the existing on-site natural gas infrastructure at work and at home," states Michael Wilson, president and CEO of Ingevity. "Our commitment to ANG technology reinforces Ingevity's vision to purify, protect and enhance the world around us by harnessing the efficient and environmentally friendly properties of natural gas."
The new fueling station houses one appliance that is suitable for multi-vehicle fleet use and another appliance that simulates an at-home residential fueling solution. Both appliances will slow-fill natural gas to a targeted 900 psi, refilling the ANG cylinders within several hours.

"Ingevity's investment in an on-site ANG fueling station represents our confidence in the value of this technology and its commercialization," says Ed Woodcock, executive vice president and president of performance materials at Ingevity. "Data collected from the on-site fueling station will be an invaluable component of future partnerships with local gas utilities and alternative, light-duty vehicle fleet operators across the U.S. in support of future ANG vehicle rollouts."