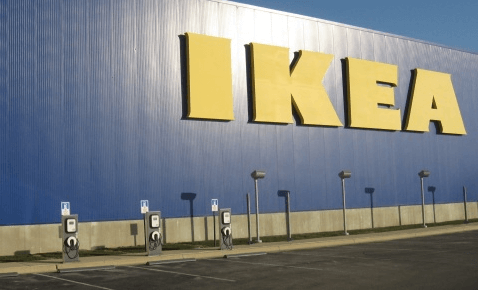 In its latest announcement, IKEA says it intends to install three Blink electric vehicle (EV) charging stations at its future store in Grand Prairie, Texas, which is set to open this fall.
This initiative reflects the continued partnership between IKEA and Car Charging Group Inc., the owner of the Blink Network and Blink EV charging stations, with thousands of public EV charging stations in 36 states and two countries.
As it currently stands, there are EV charging units at 29 U.S. IKEA stores.
"Installing EV charging stations at the future IKEA Grand Prairie reinforces our commitment to sustainability," says Lars Petersson, IKEA U.S. president. "As a retailer, IKEA realizes that a focus on the sustainable transport of people can help empower customers to live sustainably. Meeting the needs of EV drivers in North Texas helps achieve both goals."
EV drivers can become a Blink member for free and typically receive discounted charging fees at thousands of Blink units.
The 290,000-square-foot future IKEA Grand Prairie is currently under construction on 30 acres along the eastern side of State Highway 161 and Mayfield Road, north of Interstate-20, approximately 14 miles west of downtown Dallas and 18 miles east of downtown Fort Worth. The facility will feature 1,100 parking spaces and will include one of the largest solar rooftops in Texas.
As reported last week, IKEA also announced plans to install three Blink EV charging stations at its future Indianapolis-area store opening this fall in Fishers, Ind.