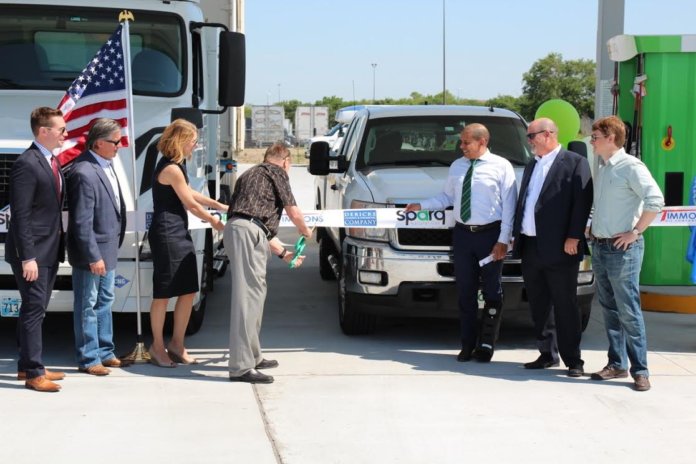 Sparq Natural Gas, Timmons Oil Co., Dericks Leasing & Financial Co. and J-W Power recently opened what they say is Oklahoma's largest-capacity compressed natural gas (CNG) fueling station.
The partners officially cut the ribbon on the public-access station on May 18, following its start of operations in early November 2017. Sparq Tulsa developed the site in partnership with locally based Dericks Leasing & Financial Co. and Timmons Oil Co. at Timmons' Tulsa headquarters, located off of I-44 and I-244 for easy access for heavy-duty truck drivers. The project is Sparq's 10th CNG station across its multi-state network and its fifth in Oklahoma.
"Sparq is committed to providing Oklahoma natural gas vehicle operators a regional
network of high-performing, attractive and conveniently located CNG stations," says Norman Herrera, CEO of Sparq. "With rising diesel prices and stable CNG prices, CNG continues to offer drivers a clear advantage while also burning a cleaner, Oklahoma-produced fuel."
"This project is about connecting opportunities," notes Todd Collier, senior vice president for the station's host, Timmons Oil Co. "Sparq Tulsa joins a growing integrated network of CNG stations across Oklahoma. We have already seen a strong reception from our anchor customers, enjoying the benefits of a fast-fill, high-performance station – a key advantage in the trucking business."
Open 24/7, the station features two 150-hp J-W PowerFill compressors; two high-flow, heavy-duty CNG nozzles; two light-duty CNG nozzles; 12 37-inch CP Industries three-pack natural gas storage units; Oklahoma Natural Gas capital improvements to maximize faster gas pressure and flow; and access to Sparq's proprietary Fuel Card Program.
"We are excited to partner with Sparq to introduce our new PowerFill design," says James Barr, J-W Power Co.'s vice president of sales. "The PowerFill technology increases flow rates without increasing horsepower and significantly increases the use of on-site storage – particularly when combined with Sparq's massive investment in CNG storage – and enhances the customer experience."
In line with the U.S. Department of Energy's Alternative Fuel Corridor designation, the station provides a critical link in the build-out of alternative fuel corridors of natural gas stations across Oklahoma, according to Sparq. It is strategically located along the I-44 "CNG Corridor," linking St. Louis and Dallas.
According to Richard Dericks Jr., a principal at Dericks Leasing & Financial Co., the station represents the company's largest investment in CNG infrastructure in its 33 years of business.
"We are extremely proud to make such a large clean-burning fuel investment in our hometown of Tulsa," he says.