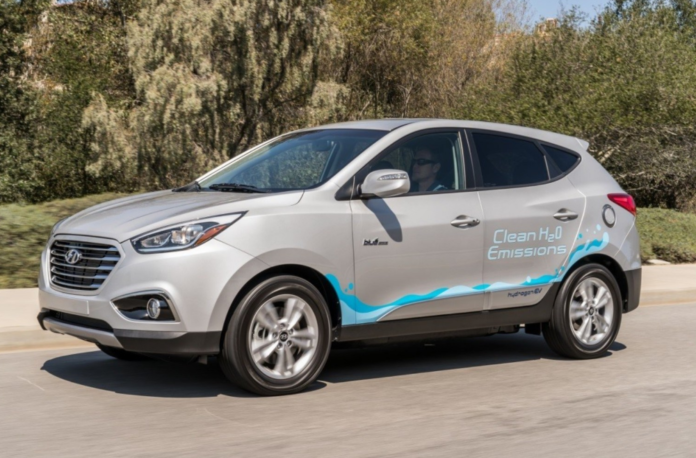 Just ahead of Earth Day 2017, Hyundai has announced that Tucson Fuel Cell drivers have again surpassed an important threshold, accumulating more than 2 million miles on the roads and highways of both Southern and northern California.
According to the automaker, these fuel cell vehicles have replaced approximately 760 tons of CO2 emissions that would have been emitted by vehicles of similar size and capability.
Hyundai has delivered more than 140 Tucson Fuel Cell crossovers since its introduction as the first mass-produced fuel cell vehicle in the U.S. market in 2014.
"Breaking the 2 million-mile consumer mileage barrier gives us greater vision into the unlimited zero-emissions potential for Hyundai's fuel cell vehicles," says Mike O'Brien, vice president of corporate and product planning for Hyundai Motor America. "With our growing consumer fleet of hydrogen-powered Tucson fuel cells accumulating miles and, thus, reducing corresponding emissions, we're excited to help fulfill the unlimited potential for a zero-emissions hydrogen vehicle future."
Hyundai service engineers, with permission from vehicle owners, receive periodic mileage updates from Tucson Fuel Cell vehicles, allowing them to calculate cumulative mileage totals as needed to assess fuel cell stack maintenance status.
The Hyundai Tucson Fuel Cell offers an estimated driving range of 265 miles between fill-ups and can be refilled with hydrogen in less than five minutes. In addition, due to their compact, lightweight fuel cell stack design, fuel cell vehicles are completely production scalable, from very small to very large vehicles, such as urban-focused mini-compact cars, to full-size buses and trucks.