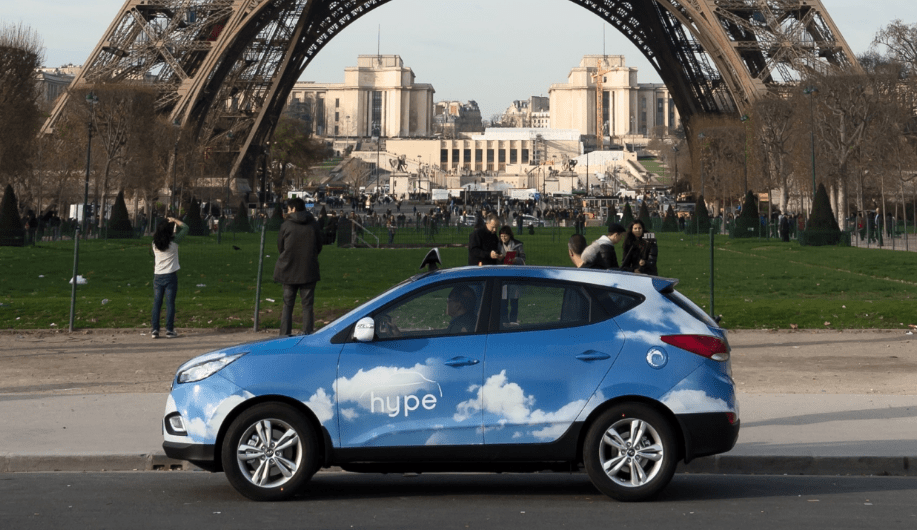 Hyundai Motor has announced that it will provide an additional 60 ix35 fuel cell electric vehicles (FCEVs) to the Paris-based electric taxi start-up STEP (Societe du Taxi Electrique Parisien), which currently serves the Greater Paris Area with its "hype" (hydrogen-powered electric) fuel cell taxi fleet.
According to Hyundai, the company signed a memorandum of understanding for the FCEVs at the opening of a public hydrogen fuel station operated by Air Liquide at Hyundai's headquarters in Offenbach, Germany.
As previously reported, STEP's "hype" fleet features five ix35 fuel cell cars, which were delivered by Hyundai Motor in December 2015. The automaker says it expects to grow the fleet up to several hundred vehicles within five years.
Hyundai says the 60 new ix35 FCEVs will not add to the 17,000 taxis already in circulation in and around Paris, but will replace petrol- and diesel-powered cars instead. Compared to a diesel-powered taxi, the ix35 FCEVs will save more than 800 tons of CO2 per year in exhaust emissions.
Currently, there are more than 300 Hyundai ix35 FCEVs on European roads in 12 countries – which is more than all of the FCEVs of other manufacturers combined. The ix35 features an asynchronous electric motor generating 100 kW, a maximum torque of 300 Nm, and a range up to 594 kilometers on a full tank.
According to the company, the deployed ix35 vehicles were partially funded by the Hydrogen Mobility Europe Project.