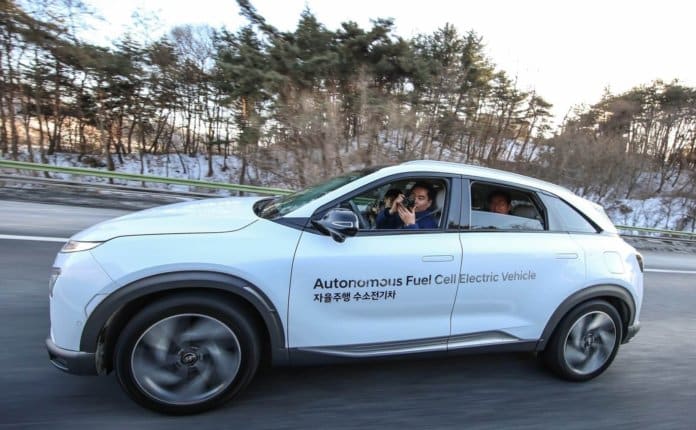 Five Hyundai fuel cell electric vehicles recently completed a self-driven, 190-kilometer journey from Seoul to Pyeongchang, South Korea, the automaker has announced.
According to Hyundai, the trip marked the first time that Level 4 autonomous driving was achieved with fuel cell electric cars.
Three vehicles were based on Hyundai's fuel cell electric SUV NEXO, scheduled to be released in Korea next month, and the other two were Genesis G80 autonomous vehicles. All vehicles were equipped with level 4 self-driving technology, as defined by the SAE international standards, and 5G network technology. The vehicles used for the demonstration were "futuristic vehicles" that closely represent Hyundai's three visions for future mobility: connected mobility, freedom in mobility and clean mobility.
The demonstration started in Seoul on Feb. 2 with the CRUISE and SET buttons being pressed on the autonomous-driving steering wheel of each vehicle, at which point the cars immediately switched to self-driving mode and began the 190-kilometer journey to Pyeongchang. Entering the highway, the vehicles moved in response to the natural flow of traffic; they executed lane changes and overtaking maneuvers and navigated toll gates using Hi-pass, South Korea's wireless expressway payment system.
Hyundai also recently demoed the vehicles at the Consumer Electronics Show (CES) in Las Vegas. Hyundai has also conducted a significant number of highway test drives, amounting to hundreds of thousands of kilometers traveled – enabling the company to accumulate a vast amount of data to help enhance the performance of the vehicles.
The exterior and interior of the self-driving vehicles used for the South Korea demonstration look similar to Hyundai's other mass-produced models, but they are equipped with various cameras and LIDARs, Hyundai notes.
Hyundai Motor Group, which includes Hyundai Motor and Kia Motors, is preparing for the commercialization of the SAE standard Level 4 compliant autonomous driving system in smart cities by 2021. To this end, the company announced plans at CES 2018 last month to jointly develop self-driving technology with Aurora Innovation, a U.S. based autonomous driving start-up.