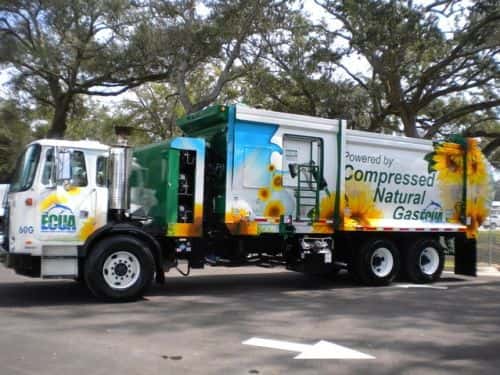 Municipal natural gas utility Pensacola Energy, the Emerald Coast Utilities Authority (ECUA) and a number of other fleets on the western-most edge of the Florida panhandle are making the move to convert their vehicles to compressed natural gas (CNG) power.
Of course, critical to any successful deployment of natural gas vehicles (NGV) is the creation of adequate refueling infrastructure. Pensacola Energy and ECUA's long-term plans included building three CNG stations – the last one is scheduled to be complete in December. Zeit Energy, based in Dallas, was contracted to build the facilities.
Pine Forest Station: In October 2012, Pensacola Energy and ECUA opened this new $1.8 million public-access CNG refueling station. The station's location (6722 Pine Forest Rd, three miles south of I-10) on the west side of Pensacola provided an excellent location to fuel local fleets, as well as companies transporting vehicles to south Florida.Â
This station, which was sited at ECUA's sanitation facility, features four fast-fill and 90 time-fill hoses. The station regularly serves more than 100 NGVs from various organizations, including fleets from Escambia County, Escambia County Area Transit (ECAT), the City of Gulf Breeze, ECUA, Pensacola Energy and the City of Pensacola. The time-fill component currently serves ECUA's heavy-duty fleet: refuse trucks, roll-offs and semi-tractors.Â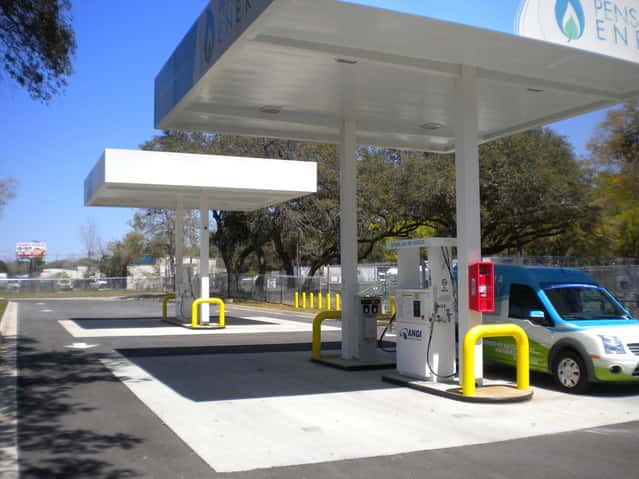 The heart of the station consists of two ANGI Energy Systems compressor packages that produce a total of 300 DGE of CNG per hour. A three-pack storage rack holds 270 DGE, of which 90 is usable. A XEBEC regenerable single-tower natural gas dryer is used to ensure that quality gas is delivered to the NGVs.
Two FuelMaster card readers provide a reliable method of tracking sales. Customers can use fuel keys or pay by credit card. The FuelMaster system has been programmed to recognize an in-state and out-of-state NGV and to bill the appropriate taxes (based on the ZIP code of the card used). At the end of each month, Pensacola Energy downloads all the information necessary to bill fleet customers and remit state and federal excise taxes.
At the current usage level, the Pine Forest Station dispenses approximately 420,000 DGE annually.
Palafox Station: This February, Pensacola Energy opened a private-access station for City of Pensacola's fleet vehicles. The combination of time-fill (seven posts) and fast-fill (one hose) refueling meets the needs of 21 NGVs. (Five refuse trucks are the exclusive users of the time-fill component.)
Providing compression for the facility is one ANGI Energy Systems NG50E compressor that generates 36 GGE/hour, with a rack of 18 storage bottles holding 86 GGE (of which 29 GGE is usable). A XEBEC regenerable single-tower natural gas dryer is used at the site, where the fast-fill rate is 3-4 GGE per minute using the compressor and storage, and the time-fill rate is 32 DGE/hr.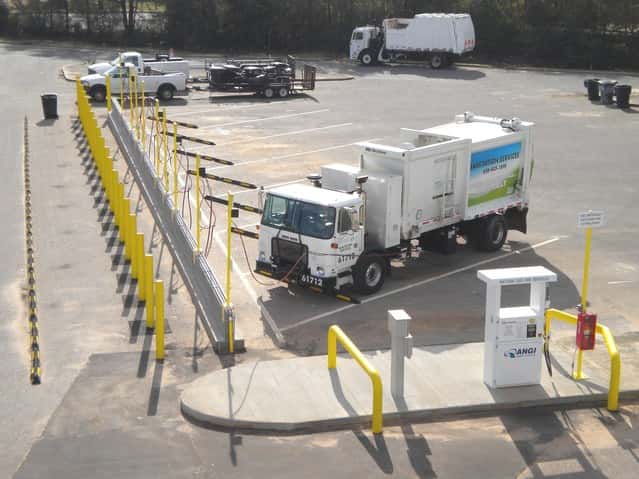 The station currently dispenses approximately 3,000 DGE monthly, and that amount is expected to increase steadily.
Ellyson Station: A second public-access station, located at 3320 Copter Rd. on a retired naval base, is expected to be operational by the end of 2013. This facility is strategically located to serve the numerous trucking companies that currently operate out of a nearby industrial park, as well as the NGVs that go in and out of ECUA's maintenance facility.
Situated on the east side of Pensacola, this station helps to complete Pensacola Energy's long-term strategy to provide CNG to Escambia County, with fleets no longer having to rely on a single station on the west side of town.Â
NGVs
The City of Pensacola and Pensacola Energy: The city currently has 21 NGVs operating in various departments: sanitation services, public works, police and Pensacola Energy. The fleet consists of five refuse trucks (Autocar/McNeilus bodies with Cummins Westport ISL G 320 hp natural gas engines), two Honda Civics, four Ford Fusions, one Ford Transit Connect, one Chevy 1500, two Ford F-150s, a pair of F-250s and four F-350s.
The majority of the vehicles are considered OEM, with CNG up-fits having been performed by various companies: IMPCO, Altech-Eco and BAF Technologies (now Westport). The Chevy 1500 was the only vehicle converted after taking delivery, and that conversion was performed at Phoenix Energy in Birmingham, Ala.
ECUA: ECUA's natural gas fleet is extensive (71 total), with a wide variety of vehicles in use. There are 50 refuse trucks, two roll-offs, three knuckle boom trucks, several semi-tractors and numerous light- and medium-duty trucks (predominately Fords).
ECUA's vehicle replacement schedule is 15 to 20 vehicles annually over each of the next five to six years. That said, many more NGVs are coming to ECUA.Â
The organization's refuse trucks are Autocar Xpeditor models with 70 DGE capacity. The roll-offs are Autocar Xpeditors with Heil dual lifts (100 DGE capacity), and the knuckle boom trucks are Autocar Xpeditor with Pac Mac boom bodies (70 DGE capacity).
ECUA plans to retire 30 diesel-powered refuse trucks over the next five to seven years, as well as to continue replacing light- and medium-duty vehicles – about 100 of them.
Rush Trucking in Mobile, Ala., has been instrumental in supplying semi-tractors for the wide range of applications that ECUA requires. In 2012, two tractors were delivered: a Peterbilt Model 365 for pulling various trailers and a Peterbilt Model 384 crew cab that operates as a service vehicle.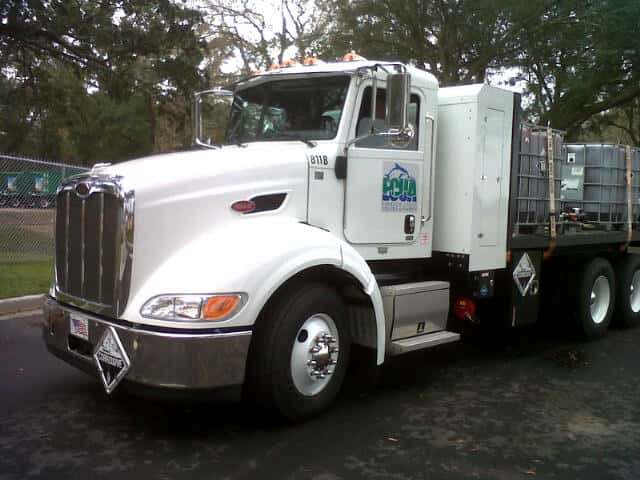 In July, another Model 365 was delivered, and a Peterbilt Model 384 sewer-vacuum truck will be delivered in November. All of these vehicles are powered by Cummins Westport ISL G engines.
Escambia County: The county has a fleet of 15 Ford F-150 trucks and, as opportunities arise, will be switching additional vehicles to CNG. The construction of the second CNG station on the east side of Pensacola will facilitate additional conversions, as their central maintenance facility is located in the vicinity.
Also, Escambia County Area Transit recently took delivery of two CNG-powered MV-1 paratransit vans. The transit authority additionally operates 30 Gillig buses and several support vehicles that are being eyed for CNG conversions.Â
City of Gulf Breeze: The city of Gulf Breeze is a neighboring Pensacola community that operates nine NGVs. Their fleet consists of three Chevy 2500 vans, two F-250 trucks, a pair of Ford Fusions, one E-250 van and one E-350 Van. All of these vehicles, with the exception of the Fusions, are dedicated CNG models.
The city has also pursued its own CNG refueling capacity, having recently completed the installation of a Simpkins Energy compressor equipped with two time-fill hoses. This unit is rated at 5 GGE per hour.Â
Cost savings
Although it is still somewhat early to document the exact savings realized by the local fleet operators, ECUA – which has the largest fleet in the region – expects to save approximately $1 million in annual fuel costs and $350,000 in maintenance. The organization's older diesel-powered trucks were very inefficient, requiring constant maintenance of the emission systems. NGVs resolved that issue, and the CNG refuse trucks saw a fuel economy increase of 50%.Â
Fleet operators running smaller vehicles such as sedans and light/medium-duty trucks report maintenance costs equal or less than their diesel/gasoline counterpart. And, with all the fleets, the fuel savings per DGE is averaging $1.60, with a published price at the station of $2.05/DGE.Â
It is notable that NGV maintenance can often be a challenge for fleet operators unless they have incorporated it into their maintenance plans. Both ECUA and the City of Pensacola have in-house technicians certified to perform tank and fuel system inspections.
It can be difficult to budget for the electricity expenses associated with CNG refueling infrastructure. Before the stations were constructed – and as part of our due diligence – it was suggested that we budget approximately $0.18/DGE. The Pine Forest Station, with two compressors and dispensing an average of 36,000 DGE monthly, has a $0.104/DGE electricity cost, while the Palafox Station, with one compressor and dispensing an average 3,000 DGE monthly, has a $0.19/DGE electric cost.
Gas consumption at the Palafox site has always been consistent, so there was never an expectation that the cost per gallon would decrease with time and usage. The Pine Forest station presents a different situation, with DGE usage trending higher since it went into service, and with electricity costs trending slightly lower. In November 2012, we dispensed 26,480 DGE with an electric cost of $0.1322/DGE, and in June 2013, we dispensed 42,675 DGE with an electricity cost of $0.09332/DGE.Â
Larry Hunter is the business development manager for Pensacola Energy. He can be reached at lhunter@cityofpensacola.com.