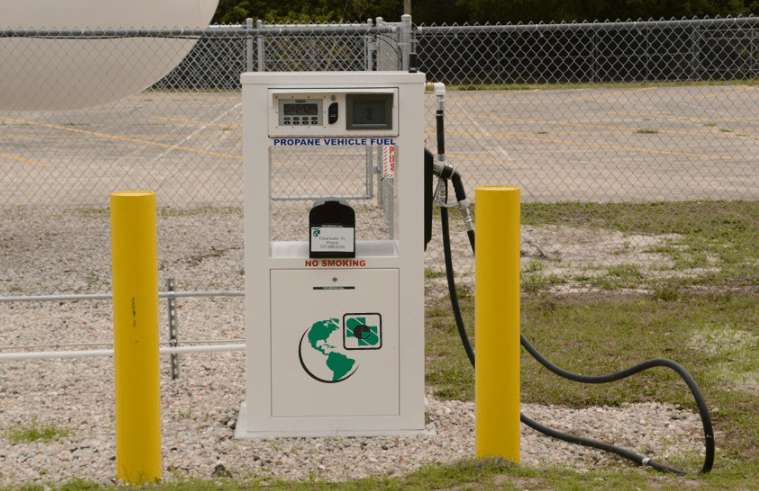 Propane autogas is a leading alternative transportation fuel in the U.S., and there are a number of factors that set it apart for fleet operators. One of those factors is total cost of ownership – when you consider fleet vehicles and their maintenance, fuel costs, and fueling infrastructure, propane autogas clearly provides a cost-efficient option.
But another factor is safety, which includes the means of dispensing. Propane autogas is a closed-loop system, which means that the fueling connection is not open to the atmosphere, so there is no venting of fuel during the fueling process.
Safety is also maximized when manufacturers choose to adhere to applicable standards and product listings. True, some are mandatory, but others are optional, though highly recommended by the propane industry to ensure a positive user experience that is as similar to gas and diesel as possible. Adherence to some standards even allows propane autogas to be placed on the same refueling island as those conventional fuels.
So, what are those key standards and listings, and how do they increase safety and convenience for fleet operators and help reduce total cost of ownership?
NFPA, UL and CSA
The National Fire Protection Association NFPA 58 standard (technically titled Liquefied Petroleum Gas Code) is perhaps the most crucial standard because it must be met to sell a propane autogas dispenser in the U.S. NFPA 58 is adopted as law in all 50 states, which means that if a fleet operator wants to install a propane autogas dispenser, it must comply with that standard. NFPA 58 2014 is the most current edition of the standard; the 2017 edition is expected to be published in autumn.
NFPA 58 provides guidelines that cover the design, construction, installation and operation of propane autogas systems. All electrical equipment within the dispenser must comply with NFPA 70, also known as the National Electrical Code (NEC). Additionally, the container must be built to American Society of Mechanical Engineers (ASME) specifications, and internal piping must be manufactured to the American Society of Testing Materials (ASTM) standard.
The implication of NFPA 58 for fleet operators is that they can be confident they are installing a safe dispenser for their drivers to use regardless of their location in the U.S. But, for some dispenser manufacturers, that's just the beginning of safety standard compliance.
NFPA 58 does not require that the dispenser itself be listed with recognized listing agencies, such as Underwriters Laboratories (UL) or the Canadian Standards Association (CSA), though many internal components must be individually listed. Some manufacturers are choosing to have entire dispensers listed by UL and/or the CSA for one simple safety reason: It provides verification by an independent third party that there is manufacturing consistency.
For example, some manufacturers choose to have their dispensers approved to the UL 495 standard (technically titled Standard for Power-Operated Dispensing Devices for LP-Gas). From weatherproofing to voltage and pressure tests, UL professionals ensure a propane autogas dispenser is manufactured for ongoing safety, no matter the installation location. In order to achieve UL 495 listing, UL personnel will visit a manufacturer every three months to ensure products are being manufactured consistently.
The CSA's standard is CAN1-12.4 (technically titled Dispensing Devices for Propane Fuel for Highway Vehicles). Certain aspects of CAN1-12.4 are more stringent than UL 495, particularly in the area of electrical grounding, which is why some U.S.-based manufacturers of propane autogas dispensers will develop a product based on CAN1-12.4 in order to sell it on both sides of the border. What's more, the CSA tends to use UL 495 as a reference, so when the CSA lists a product under CAN1-12.4, it could also be listed with UL 495.
UL 495 and CAN1-12.4 are significant, as well, for another important reason: According to NFPA 30A (technically titled Code for Motor Fuel Dispensing Facilities and Garages), propane autogas dispensers must be listed to be placed on a refueling island with other fuels, such as gasoline and diesel. Thus, listings directly increase convenience for fleet drivers, who need only to pull up to one refueling island.
PERC Dispenser Specifications
In an effort to ensure a positive end-user experience with propane autogas dispensers, the Propane Education & Research Council (PERC) recently created a propane industry task force to develop a document titled "Propane Autogas Dispenser Specifications." It's designed to ensure new propane autogas dispensing equipment meets all of the following criteria:
Meets all necessary federal, state, and local codes and regulations;
Delivers propane autogas in a similar way to gasoline;
Will be the correct dispenser for the type of vehicle being fueled; and
Provides safe, reliable propane autogas fueling.
The document's source materials include NFPA 58, 30A and 70; UL 495; the International Fire Code (IFC); Handbook 44 of the National Conference on Weights and Measures; and federal, state, and local codes and regulations. It covers everything from minimum system requirements, such as a dispensing rate of 8 gallons per minute, to specific equipment requirements for the dispenser cabinet and all internal components. That includes metering, display, electrical, piping, valves and fittings, hose and tank assembly, pump system and assembly, inline fuel filter, and even installation foundation.
Total Cost of Ownership, Safety, Convenience
Propane autogas is already a cost-effective alternative fuel based on total cost of ownership, but thanks, in part, to standards such as NFPA 58 and listings such as UL 495 and CAN1-124 by propane autogas dispenser manufacturers, it's also the safest. While standards and listings provide the safest possible product, along with ensuring manufacturing consistency, they ultimately translate to an ideal user experience, which is an added benefit for any fleet operator.
Mike Walters is vice president of safety and training for Superior Energy Systems, a Columbia Station, Ohio-based supplier of propane infrastructure and services that brings together engineering, manufacturing and construction expertise while focusing on operational excellence and turnkey systems.
Photo: PRO-Vend 2000 dispenser from Superior Energy Systems.