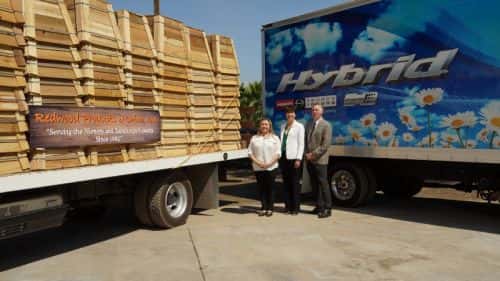 Michigan-based Hino Trucks is promoting its support for California's Hybrid and Zero-Emission Truck and Bus Voucher Incentive Project (HVIP) and notes it participated in a recent celebration hosted by the California Air Resources Board (CARB) to mark the incentive program's 2,000th voucher.
Elected officials and other clean vehicle industry members were in attendance as the voucher's recipient, Redwood Products, took ownership of a Hino COE model 195h delivery truck. Based in Chino, Calif., Redwood Products won a $23,000 HVIP voucher, which covered close to one-third of the price of the low-carbon Hino hybrid truck.
'At Hino, we are committed to doing our part in reducing our carbon footprint, and our 195h model is proof in motion of this commitment. Since 1991, we have sold over 15,000 vehicles worldwide using Hino's hybrid technology, making us an industry leader in commercial hybrid product sales,' said Hino Trucks' Glenn Ellis.
'Like other forward-looking companies, Hino Trucks has demonstrated that California's efforts to support cleaner low-carbon trucks and transportation creates a market and a successful business opportunity,' said CARB Executive Officer Richard Corey.
Ellis continued, 'We applaud CARB in their mission to improve California's air quality with the HVIP program and are excited for our customers to take advantage of this outstanding opportunity to lessen our dependence on oil and create a cleaner California while keeping more of their hard-earned money."
More information about the HVIP and the program's milestone is available here.
Photo L to R: Marcie Rodriguez of Redwood Products, California State Sen. Connie M. Leyva, and Bill Van Amburg, senior vice president of CALSTART, at the event marking the award of the 2,000th HVIP voucher.