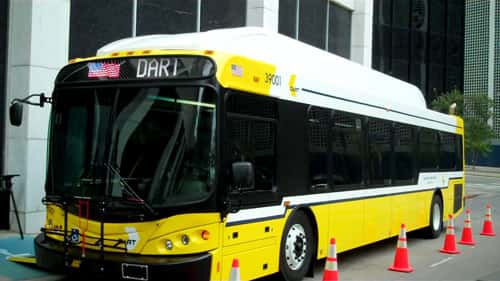 Back in early 2010, Dallas Area Rapid Transit (DART) – one of the largest public transportation agencies in the U.S. – announced that it was planning a major shift from diesel to compressed natural gas (CNG), with more than 450 31- and 40-foot buses coming online starting in 2013.
On Monday morning, DART's plans came to fruition when a 40-footer powered by CNG took to its route. According to coverage in the Dallas Morning News, the agency is aiming to roll out five new CNG buses every week, going forward.
These units are part of a significant project that will see 459 vehicles from North American Bus Industries (NABI) hit greater Dallas streets in the coming months. These 31- and 40-foot low-floor buses feature the 8.9-liter, 280-hp ISL G natural gas engine from Cummins Westport, as well as six 16-inch-diameter, roof-mounted CNG cylinders on each bus.
DART is also deploying 200 CNG-powered paratransit vehicles, which carry up to 19 passengers each. The agency began deploying these vehicles in the fall of 2012.
Supporting the CNG buses is a network of four refueling stations that DART coordinated with Clean Energy Fuels Corp. This $40 million investment also included upgrades to DART maintenance facilities.