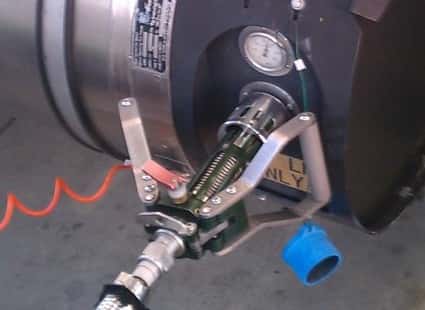 The National Conference on Weights and Measures (NCWM) says it will vote on a measure of substantial importance to the natural gas vehicle sector during its annual meeting in Detroit in July.
At issue is how compressed natural gas (CNG) and liquefied natural gas (LNG) are measured when being used as transportation fuels. Measuring by mass (e.g., pounds or kilograms) is one way; measuring by volume (e.g., gallons) is another.
'Most U.S. consumers are accustomed to buying motor fuel in gallons. But natural gas isn't metered the way gasoline and diesel are,' the NCWM says. 'When a consumer fills up a vehicle with natural gas, the dispenser is determining the weight of the product, not the volume.'
Trade group NGVAmerica has been one vocal supporter of the NCWM adopting a national standard that would enable CNG and LNG to be dispensed in a diesel gallon equivalent (DGE) unit. This would match up with what the NCWM itself has recognized for CNG for nearly 20 years: the gasoline gallon equivalent (GGE). The 'equivalent' metric would enable everyday consumers and fleets to compare the prices of CNG, LNG, gasoline and diesel.
A special steering committee within the NCWM will recommend that the group votes in favor of and establishes the 'equivalent' standard for the sale of CNG and LNG. The committee has suggested that a 'DGE' would equate to 6.38 pounds of CNG or 6.06 pounds of LNG.
'The adoption of uniform standards is important so that equipment manufacturers only have to meet one set of design requirements and retailers understand how to offer the product for sale in a way that allows consumers to compare prices,' according to the NCWM.
The 99th NCWM Annual Meeting will offer open hearings on July 14-15 to discuss the matter. On July 16-17, the proposals will be debated and put to a vote among state and local regulators to determine if 'DGE' becomes a national standard.
Stay tuned!