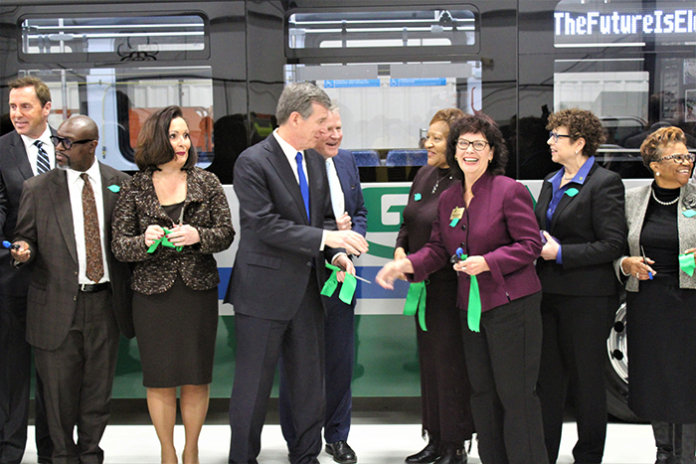 North Carolina officials gathered on Thursday to celebrate the Greensboro Transit Authority's (GTA) adoption of electric buses.
The launch of a Proterra all-electric, battery-powered bus was attended by North Carolina Gov. Roy Cooper; Mike Fox, N.C. Department of Transportation chairman; U.S. Rep. Mark Walker; and other local officials. Notably, GTA is now the first transit agency in the state to deploy battery-electric buses.
"This is a big deal and a big day not only for Greensboro, but for the state of North Carolina," Cooper said to a crowd of about 100 people gathered at the Koury Aviation hangar.
GTA has the first of the no-emission, low-noise buses in service. More are on order from Proterra, which designed and built the vehicles. Greensboro's Department of Transportation director, Adam Fischer, said the buses will cost an estimated $350,000 less in maintenance costs over their lifetime of service compared to diesel buses.
Cooper recently signed an executive order for the state to reduce greenhouse-gas emissions 40% by 2025. One way to achieve this, the governor said, is to switch to electric vehicles in government fleets.
"We can do that by creating green jobs in clean energy and renewable energy and by shifting to more energy efficient and electric vehicles," Cooper said.