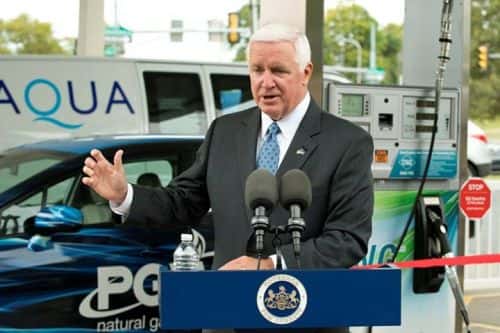 VNG.CO unveiled public-access compressed natural gas (CNG) refueling capacity at a BP convenience store in Philadelphia this week, drawing dignitaries such as Gov. Tom Corbett to cut the ribbon.
The station, which is located on Abbottsford Ave., is a part of VNG's growing network of CNG infrastructure co-located with existing retail fueling locations (e.g., the new site in Philly has a number of gasoline pumps, a full c-store and a Dunkin' Donuts). The project was financed via two grants and matching funds from VNG.
'The convenience of a local CNG fueling station makes it possible for local governments, organizations, companies and residents to make the switch to this cleaner and affordable alternative fuel,' the governor said.
VNG had also received a state Alternative Fuels Incentive Grant in order to help a number of fleets, including The Safelite Group, Aqua America, Comcast and H.B. Electric Services, begin converting vehicles to CNG. Each of these companies will be refueling their NGVs with VNG's new equipment.