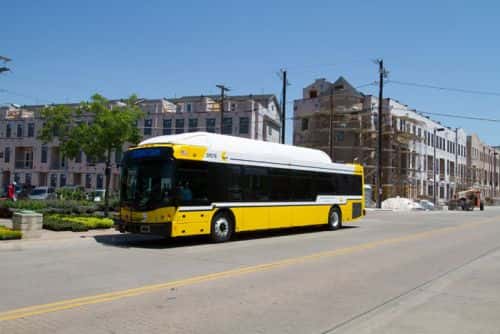 Dallas Area Rapid Transit (DART), one of the U.S.' largest public transportation agencies, is continuing its major fleet transition from diesel to compressed natural gas (CNG) with an order for 63 additional CNG buses.
A few years ago, DART revealed its bus-replacement plans and announced a contract for 459 large CNG buses from North American Bus Industries (NABI), a company that New Flyer Industries later acquired. Deliveries of those NABI vehicles – a combination of 31-foot and 40-foot models – started in 2013 and were completed in early 2015.
In a press release, New Flyer has announced that DART has exercised its options to order more CNG units under that NABI contract and will add 63 new, 40-foot CNG buses to its fleet, including 17 NABI LFW and 46 New Flyer Xcelsior vehicles.
'These buses are part of our fleet renewal and represent our commitment to deliver the best-possible customer experience for the tens of thousands of North Texans who make riding a DART bus a daily part of their lives,' says Gary Thomas, DART's president and executive director, in the release.
"DART is one of the key customers that we began supplying buses to through the acquisition of NABI in 2013," adds Paul Soubry, president and CEO of New Flyer Industries. "DART exercising these options demonstrates the strong relationship that we've built together, and we feel privileged to continue to work with them by providing these additional environmentally friendly CNG buses."
As of March 16, DART's fleet featured over 100 26-foot ARBOC CNG buses deployed in 2012, the aforementioned 459 NABI CNG buses, and 80 older NABI diesel buses.
Morgan Lyons, a DART spokesperson, tells NGT News the 63 new CNG vehicles will go toward replacing the agency's remaining diesel models and help put its bus fleet on track to becoming completely diesel-free by 2017.
Lyons explains why DART had decided to go all in with CNG when the agency needed to replace its aging bus fleet.
"As the market evolved, and as the time came to purchase new buses, compressed natural gas became a more viable option for us," he says. "It saves money, it's good for the environment, and it's a domestically produced product."
In fact, Lyons says DART saves several millions of dollars annually on fuel costs with CNG compared to diesel.
"We also have a 20-year fuel hedge, so that helps us manage our costs with a proven transit fuel," he adds. "It gives us some predictability."
DART's CNG fleet fills up at four refueling stations built, operated and maintained by Clean Energy Fuels.
When asked if DART has any regrets about transitioning to CNG, Lyons simply states, "Nope."
"Our next fleet order, which will be 10 to 12 years from now, will be for CNG buses," he says. "We don't know how many buses the order will be for, or who will make them, but they will be fueled by CNG."
Notably, DART is also poised to add some other alternative fuel vehicles into its fleet, as the agency recently won a $7.6 million federal grant to buy seven all-electric Proterra buses and related charging infrastructure.
Lyons says DART expects delivery of the Proterra buses in a little over a year from now, but the agency doesn't know whether it will pursue purchasing more electric buses until it tests out the initial seven.
Nonetheless, he emphasizes, one thing is for sure: DART will soon be done with diesel.
Photo courtesy of DART: One of DART's NABI CNG buses in downtown Dallas.