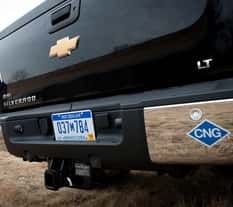 General Motors says the bi-fuel compressed natural gas (CNG) option for the the 2015 Chevrolet Silverado and GMC Sierra 2500HD and 3500HD pickups will start at $9,500, and the dedicated CNG option on the 2015 Chevrolet Express and GMC Savana cargo and passenger vans starts at $10,825 for a three-tank system and $12,090 for a four-tank system.
The company notes that CNG versions of the Silverado and Sierra 2500HD double cab and crew cab and the full-size Express and Savana vans are already available. The Silverado and Sierra 2500HD regular cab and all 3500HD pickups go on sale in July.
'Given the consistent cost savings and expanding infrastructure, both commercial and individual interest in CNG vehicles continues to grow,' says Ed Peper, U.S. vice president of GM Fleet and Commercial.
The bi-fuel CNG option will be available on all 2015 Silverado and Sierra 2500HD and 3500HD single-rear-wheel models. The Express and Savana vans have fully dedicated CNG fuel systems, available in three- or four-tank models on cargo vans and exclusively with the three-tank design on passenger vans, the company says.
GM backs up the fuel systems on all of its CNG trucks and vans through its five-year/100,000-mile powertrain limited warranty.