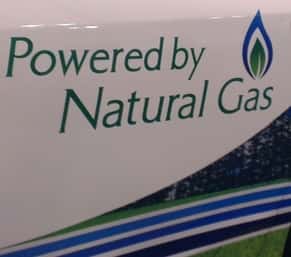 The Clean Vehicle Education Foundation (CVEF) and NGVAmerica have issued a technical bulletin that addresses a potentially overlooked aspect of compressed natural gas (CNG) refueling that could create a dangerous situation for natural gas vehicles: temperature compensation.
The bulletin – which is available here – notes that proper temperature compensation is a critical factor in safely fueling CNG vehicles, whether the NGV is refueled at a time-fill or fast-fill dispenser.
It explains that limiting the pressure dispensed to the vehicle is not necessarily sufficient in order to limit the maximum pressure in the cylinder. Rather, the temperature of the gas in a CNG tank could increase after fueling if the temperature of the environment increases before the fuel is used. This could occur with warming outdoor temperatures or when parking indoors.
If temperature is not properly compensated for during fueling, there is a possibility that a pressure-activated relief device (PRD) could rupture, completely venting the gas into the surrounding atmosphere. The issue is especially important to address prior to the cold temperatures that many parts of the country experience during winter months.
The bulletin describes the situation in detail and offers recommendations to CNG refueling equipment operators to account for the variation in cylinder pressure that can be caused by temperature.
For more information about this issue, contact John Dimmick at (262) 549-1894 or jdimmick.cvef@gmail.com.
To access the complete bulletin, click here.