Due to the potentially hazardous nature of many alternative fuels – including compressed natural gas (CNG), liquefied natural gas (LNG), propane autogas and hydrogen – fleet managers thinking of upgrading their facilities to service alt-fuel vehicles must be prepared to contend with complex code requirements and other issues as early in the process as possible.
During last week's Green Transportation Summit & Expo in Portland, Ore., Sierra Monitor Corp.'s Corey Miller and Clean Energy Fuels' Wally Dubno provided a detailed presentation that laid out key considerations for facility upgrades.
For starters, the International Code Council lays out requirements in Section 2311.7, calling for gas-detection equipment for non-odorized gases. The National Fire Protection Association specifies additional codes, including NFPA 30A-2012; NFPA 52-2013; NFPA 88A-2015; and NFPA 59-2015. These codes are then adopted by authorities having jurisdiction (AHJs) and codified in local laws.
Further codes are laid out by the International Mechanical Code and the International Building Code.
Design considerations for facility upgrades include the type of building structure; whether natural ventilation is present; the security needed to protect your shop and tools in the event of an alarm; ignition sources that may be present; and geographic and climate factors.
Special measures are needed for the 18 inches just above the floor (for heavier-than-air gases) and the 18 inches below the ceiling (for lighter-than-air gases). Existing mechanical installations, such as electrical conduit, may need to be lowered to 24 inches below the ceiling to be code compliant. If that's cost-prohibitive due to the amount of conduit or other utilities, there are options to declassify some zones by consistently running air across those areas.
When considering the total cost of ownership for facility upgrades, it's important to take into account not just the design and installation, but also ongoing utilities and maintenance costs. Miller provided a wide estimate of $75,000 to $250,000 per bay for a code-compliant upgrade, depending on the application.
He also stressed the importance of approaching the AHJ with a solid plan in hand.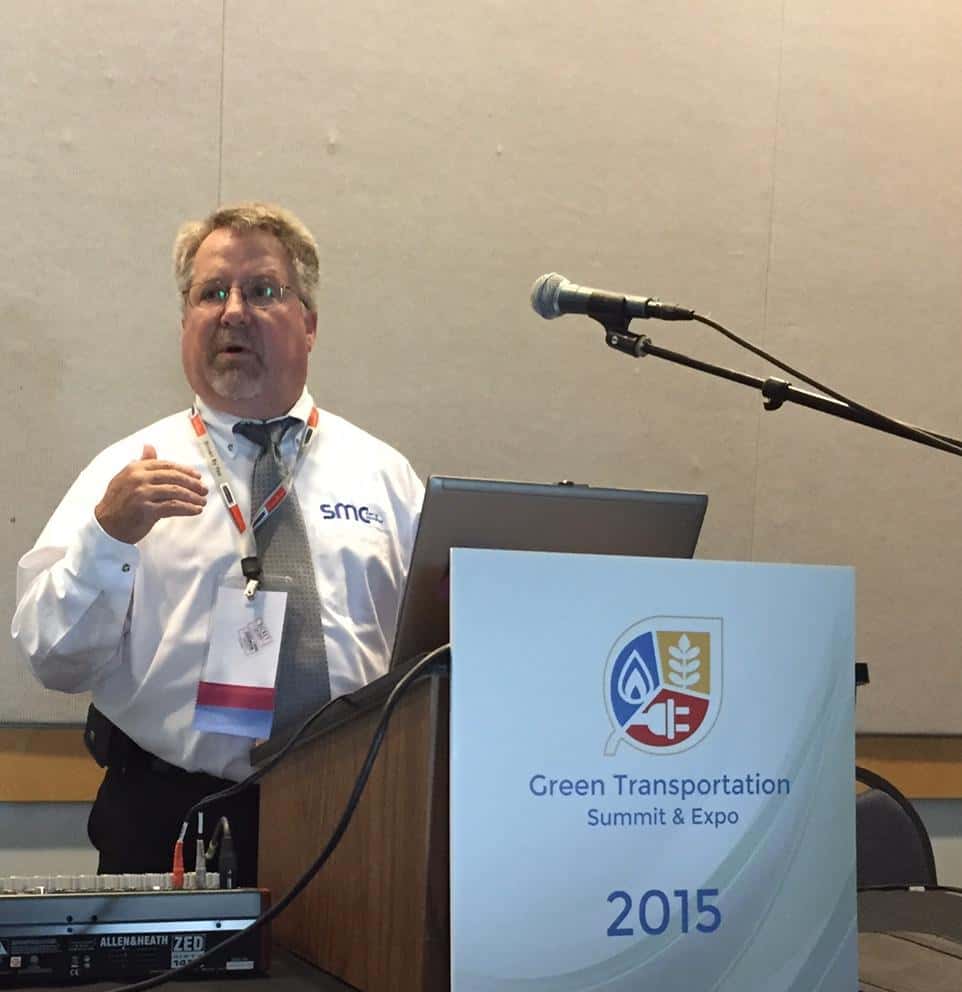 'If you tell your local fire chief that you want to do LNG and ask 'What do I do?' – he's going to tell you to move out of his jurisdiction,' Miller quipped.
In terms of equipment, gas-detection technologies for a maintenance facility must be fixed – portable personal protection is not acceptable. Options for this equipment include controller- or sensor-based systems. Controller-based systems are generally easier to install and simple to calibrate, but they require third-party approval for a complete system and have size limitations. Sensor-based systems can provide more flexibility in system design, but they require data wires and power wires and can be more difficult and expensive to calibrate.
A third alternative is an open-path gas-detection system, which has a lower cost per area. However, this newer type of detection technology is not accepted by all local authorities and can be touchy to calibrate.
If you choose a design that uses sensors, options include catalytic bead, infrared or electrochemical. Your choice will depend on the type of gases you need to detect and how often you are willing to have the system calibrated. Catalytic sensors require a semi-annual calibration, while infrared sensors can be calibrated annually but are more costly to calibrate.
It may make sense to use different types of sensors for different parts of your facility. Make sure you take a value-engineering approach, using the lowest-cost and best solution for your facility. For example, some vendors recommend a sensor for every room in the office area, but if you pressurize the office area, you don't need sensors.
The alarms for gas detection are triggered when gases reach 25% of the combustible level. The alarms fleets install should look and sound different from the facility's fire alarm and are required to be Americans with Disabilities Act compliant. (For example, they must use a different flash rate for different alarms for colorblind individuals.) They need to be visible and audible from all points in the shop. They also need to be 'first-responder intuitive' and allow the AHJ to easily determine when it is safe to re-enter the facility. Autodialers may be required, depending on the jurisdiction.
Most alarms will have three lights: amber, red and green. The amber light activates at 20% of the combustible level in the event of a gas release and starts fans to mitigate the gas. Once the gas has returned to a safe level, the amber light will go out. In the event of a red light, the panel must be reset in for the red light to be extinguished after the release of gas. A first responder may see a red and green light, indicating that there was an event, but it is now safe.
Miller stressed that clear signage is an important component of your alarm system.
'You want your alarm to never go off,' Miller said. However, if it does, 'You want [people] to know what they need to do: Get out of the building.'
Airflow is a large component of a facility's mitigation efforts. The design of your facility upgrade must take into account the natural airflow of the building, as well as the integration of exhaust fans capable of evacuating air in the event of a leak and a means of producing make-up air via your HVAC system or door and vents. You need a push/pull design whereby air-handling units push in clean air and exhaust fans pull air from the building.
Additional mitigation efforts include the shunt-tripping of non-essential power so all sources of ignition – grinders, welders, etc. – are shut off in the event of an alarm.
'Training is key,' Dubno said, noting his team strives to educate maintenance staff, supervisors and management about upgrades and explain 'what we did, why we did it and how to react if alarms go off.'
He recommended re-training every six to 12 months, so that all employees are up to speed, as well as a full system test at least once per year – even if it is not required by the AHJ.
Dubno also described two alternatives to whole-shop renovations.
A tension-fabric structure is a standalone structure that can be placed next to a fleet's current maintenance facility. This is a good option for very old facilities, where upgrading the building to code could pose big challenges. The structure comes already code compliant, needing only a non-sloping base on which to place the system and the running of utilities.
Another option is Clean Energy's proprietary Easy Bay for natural gas vehicle maintenance facilities. This is a methane-barrier system for use inside an existing facility. It is installed in a bay or bays adjacent to an outside wall and can be retracted when not needed. This is a good solution for shops that typically service a limited number of NGVs, such as smaller Class A truck dealerships.
Sue Campbell is a freelance writer based in Oregon.