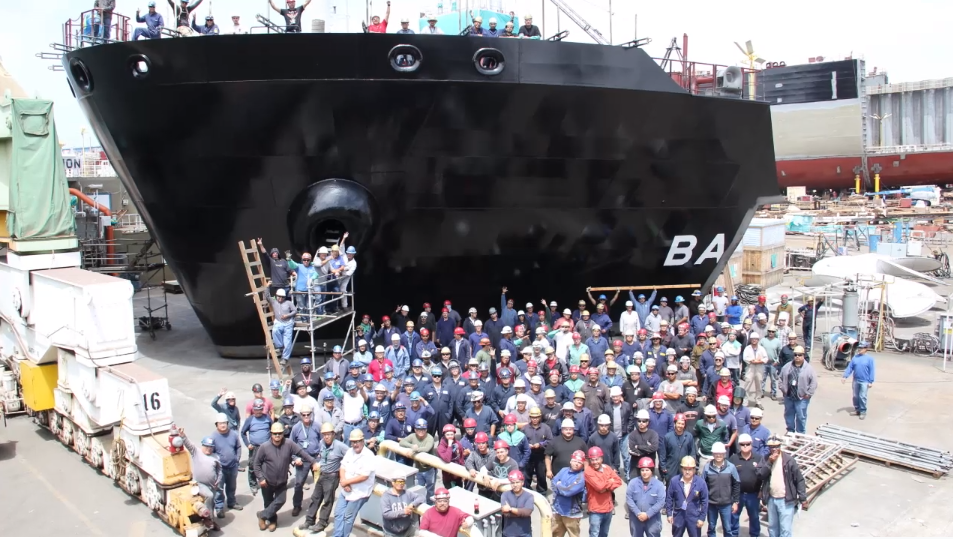 General Dynamics NASSCO says it has delivered the fourth liquefied natural gas (LNG)-ready vessel in a series of five ECO Class product tankers under contract with American Petroleum Tankers.
According to General Dynamics, the vessel was delivered during a special signing ceremony at the NASSCO shipyard in San Diego.
The Bay State is a 610-foot-long, 50,000 deadweight-ton, LNG-conversion-ready product tanker with a 330,000-barrel cargo capacity. As reported, the new ECO Class design symbolizes the emerging direction of the shipping industry in the U.S. toward cleaner, more fuel-efficient modes of transporting product.
Representative Susan Davis (CA-53) pushed a button to signal construction for the ship in May 2015.
General Dynamics says the construction and operation of the new ECO Class tankers are aligned with the Jones Act, requiring that ships carrying cargo between U.S. ports be built in U.S. shipyards.
NASSCO is the only major shipyard on the west coast of the U.S. conducting design, new construction and repair of commercial and U.S. Navy ships. In the past decade, NASSCO delivered 28 ocean-going ships to government and commercial customers – including some of the first LNG-powered containerships.
For its commercial work, NASSCO partners with South Korean shipbuilding power, Daewoo Shipbuilding & Marine Engineering, for access to ship design and shipbuilding technologies.