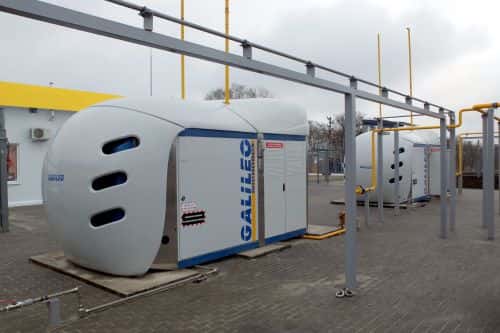 Argentina-based Galileo Technologies says Grain Holding has installed a Microbox compressor and EMB compressed natural gas (CNG) dispenser from Galileo to fill the tanks of the bread manufacturer's 90-van distribution fleet at its new plant in Ryazan, Russia, 121.8 miles southeast of Moscow.
According to Galileo, the MCS 132-3-1500-12 CNG Microbox compressor offers a total compression capacity of 1011 Nm3/h (325 GGE/hour) and a discharge pressure of 250 bar (3,625 psi). In addition, the company says every Microbox has an internal storage tank of 1,000 Nm3 (321 GGE), designed pursuant to ASME standards.
Both factors enable the EMB flow dispenser to fill a 60 standard cubic meter (Sm3) tank in the average filling time of approximately seven minutes, according to Galileo.
Furthermore, Grain Holding has awarded Galileo a contract for the provision of additional CNG compressors and dispensers to service the fleets of other four bread-baking complexes located in Russia.