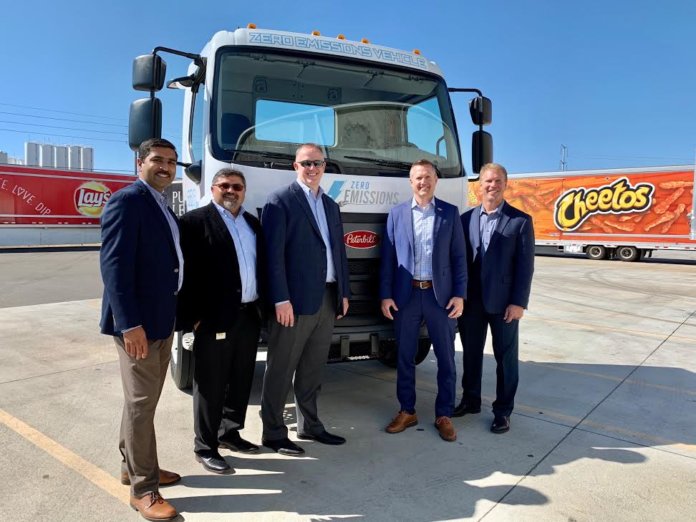 PepsiCo's Frito-Lay division has become the first customer of Peterbilt's Model 220EV medium-duty electric truck.
Six of the battery electric vehicles will be tested by Frito-Lay as part of the company's Zero- and Near Zero-Emission Freight Facility Project in Modesto, Calif. Announced earlier this month, the project aims to replace all of the Modesto manufacturing site's existing diesel-powered freight equipment with zero-emission and near-zero-emission technologies.
The zero-emission 220EV is powered by two battery packs with a total capacity of 148 kWh and a Meritor Blue-Horizon two-speed-drive eAxle. It features a range of more than 100 miles and a recharge time of one hour, making it an ideal option for local pickup and delivery operations, says Peterbilt.
"With Frito-Lay's Model 220EV, Peterbilt will have 15 battery electric trucks in three applications – city delivery, regional haul and refuse – in customers' hands running real routes and collecting real-world validation data," says Jason Skoog, general manager at Peterbilt and vice president at PACCAR, Peterbilt's parent company.
"Frito-Lay is continuously exploring current and emerging technologies for our freight equipment as we work toward reducing PepsiCo's absolute greenhouse-gas emissions by 20 percent by 2030," notes Michael O'Connell, vice president of supply chain at PepsiCo. "PepsiCo and Frito-Lay have a long-standing relationship with Peterbilt and are excited to partner in the advancement of electric vehicles within our fleet and to be the first customer to put the Model 220EV in service in our delivery operations."
Peterbilt's Model 220EV, introduced in January, joins the company's Models 579EV and 520EV in customer field trials. In addition to customer testing, Peterbilt is engaged in validation testing at the PACCAR Technical Center in Mount Vernon, Wash., where trucks are stringently tested in a variety of scenarios to ensure quality and performance.