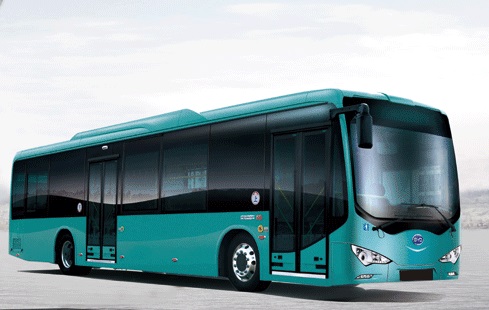 Electric bus manufacturer BYD has announced a new order for two U.S.-made BYD K9S electric buses to be delivered to the Fresno County Rural Transit Agency (FCRTA) in California.
The purchase was made possible through funding from the Fresno County Transportation Authority Measure C New Technology funds, notes BYD.
"We are excited to expand our transportation services with these two new zero-emission buses," comments Moses Stites, general manager of FCRTA. "We are one step closer to reaching our goals of providing Fresno County residents with reliable, cost-effective and environmentally friendly transportation. The primary reason we selected the BYD K9S electric bus is its expanded range to serve our rural communities."
FCRTA plans to unveil a new express route that will provide transportation services for individuals who live in Fresno's surrounding rural communities. The K9S electric buses will be exclusive to the new route due to their range of approximately 150 miles on a single charge, says BYD.
The K9S features a capacity of up to 32 passengers, depending on the configuration. The buses are projected to cost roughly $1.00 less per mile to operate than typical diesel-powered buses, according to BYD. The new buses also will produce no emissions and offer dramatically lower maintenance costs.
The proprietary BYD Iron-Phosphate battery that powers the K9S is manufactured in Lancaster, Calif. The battery is non-toxic, 100% recyclable, fire-safe and long-cycled, the company says. BYD also offers a 12-year warranty on its batteries.
FCRTA's current fleet includes four electric vans (12-passenger) and 44 clean-burning vehicles, alternatively fueled by compressed natural gas in accordance with the Clean Air Act. The K9S buses from BYD will be the first full-size electric transit buses in the fleet.
FCRTA currently operates 25 transit subsystems with over 90 vehicles. The system serves 13 rural incorporated and 29 unincorporated communities throughout Fresno County.