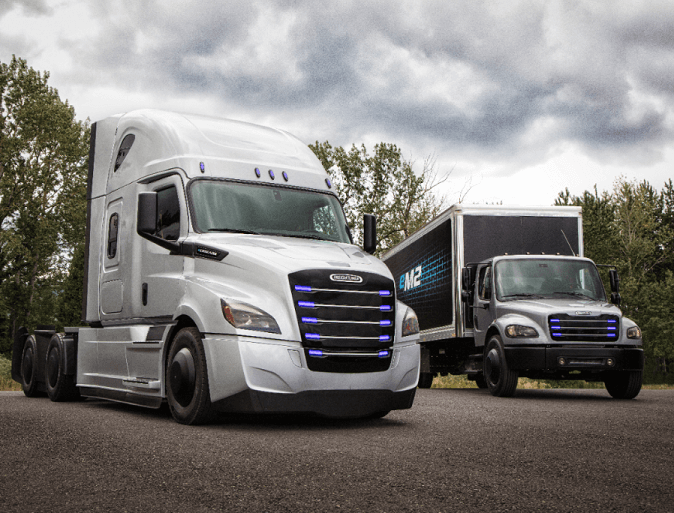 Penske Truck Leasing and NFI have agreed to partner in operating Freightliner's Electric Innovation Fleet of eCascadia heavy-duty trucks and eM2 106 medium-duty trucks, Daimler Trucks North America (DTNA), the parent company of Freightliner, has announced.
The move is the next phase of a co-creation process that DTNA is using to actively involve customers in the development of commercial electric vehicles (EVs) to meet the most valid target applications.
Starting late this year, Penske will begin taking delivery of 10 eCascadias and 10 eM2s for use in California and the Pacific Northwest, while 10 eCascadias will begin being delivered to NFI for drayage activities from the ports of Los Angeles and Long Beach to warehouses in California's Inland Empire. Additionally, DTNA plans to operate electric trucks within its own product validation engineering (PVE) test fleet in Oregon to further expedite research and development of the technology.
"Freightliner is excited to be working with Penske and NFI on this critical learning process as we further develop and refine our commercial electric vehicle technology. Running multiple trucks in real-world applications will provide better insights for our engineers into the requirements of integrating electric commercial vehicles into fleet operations," comments Roger Nielsen, president and CEO of DTNA. "We are partnering with these two customers for this phase of the co-creation process because they have use cases that closely fit the target applications we have identified. Both Penske and NFI are forward-thinking partners eager to take on the challenge, effort and investment that will be required during this important development phase."
DTNA has also announced the Electric Vehicle Council, designed to prepare customers – with viable use cases – to integrate commercial EV solutions into their operations. DTNA plans to offer consulting services to assist with site selection based on truck applications, available government incentives, infrastructure deployment and route identification.
"The DTNA approach to bring commercial electric vehicles to market is holistic. With the Freightliner Electric Innovation Fleet, we will be working hands-on with Penske and NFI," explains Richard Howard, senior vice president of sales and marketing at Freightliner Trucks. "As a separate part of a co-creation process, we will also launch the EV council that emphasizes shared learning before we begin series vehicle production."