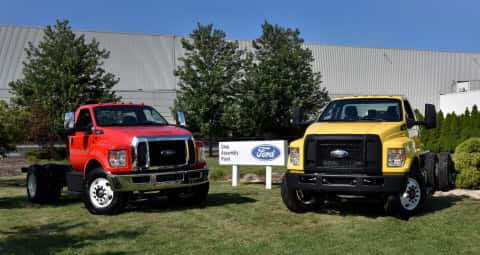 Ford Motor Co. has officially shifted production of its F-650 and F-750 medium-duty trucks from Mexico to the U.S.
Ford says the vehicles rolled off the line for the first time in the U.S. at its Avon Lake, Ohio, assembly plant on Wednesday. According to the company, the production switch represents a major investment and helps secure more than 1,000 hourly United Auto Workers (UAW) jobs in the country.
The model-year 2016 F-650/F-750 lineup is available with different engine options. Aside from its 6.7-liter Power Stroke V8 diesel engine, Ford also offers a 6.8-liter V10 gasoline engine with the heavy-duty TorqShift six-speed automatic transmission. Notably, the 6.8-liter engine can be factory-prepped for converting to compressed natural gas or liquid propane gas.
In 2014, Ford announced a $168 million investment to shift production of the F-650 and F-750 trucks from Mexico to the Ohio plant, in addition to adding new body shop equipment and other tooling needed to produce the medium-duty vehicles. The move is part of a collective bargaining agreement Ford and the UAW negotiated in 2011.
"Our investment in Ohio Assembly Plant reinforces our commitment to building vehicles in America and to delivering best-in-class commercial trucks," comments Joe Hinrichs, Ford president of the Americas. "Working with our partners in the UAW, we found a way to make the costs competitive enough to bring production of a whole new generation of work trucks to Ohio."
In addition to now producing all Ford F-650 and F-750 models and configurations, the Ohio plant also produces Ford E-Series cutaway vans and stripped chassis.