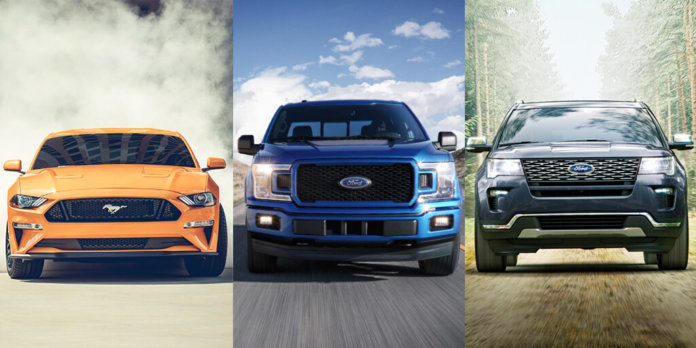 Ford has announced it is revamping its lineup and going "all in" on hybrid vehicles.
By 2020, Ford says its average showroom age will drop from 5.7 to 3.3 years as it replaces three-quarters of its lineup and adds four new trucks and SUVs. The automaker is strengthening its position in the following segments: trucks, SUVs (including off-road and performance versions), hybrids, battery electric vehicles (BEVs) and commercial vehicles. In addition, all new Ford vehicles will have 4G LTE connectivity by the end of 2019.
For its truck business, by 2020, Ford will debut a new F-150 hybrid powertrain featuring a mobile generator. For its SUV business, by 2020, Ford is planning a lineup of eight SUVs – five of which will offer hybrid powertrains and one battery electric.
Part of Ford's new strategy includes going "all in" on hybrids to bring more capability to customers of its most popular and high-volume vehicles – such as the F-150, Mustang, Explorer, Escape and Bronco – and serve as a hedge for customers against higher gas prices.
In addition, the new hybrids will offer customers more space than today's hybrids, according to the automaker. On the F-150 hybrid, Ford will lean in to capability, such as the low-end torque for extra pulling power and the fact that it can serve as a mobile generator. The Mustang hybrid will be all about delivering V8-like performance with more low-end torque, says Ford.
"Hybrids for years have been mostly niche products but are now on the cusp of a mainstream breakout," says Jim Farley, Ford's president of global markets. "The valuable capability they offer – plus fuel efficiency – is why we're going to offer hybrid variants of our most popular and high-volume vehicles, allowing our loyal, passionate customers to become advocates for the technology."
On the BEV side, Ford says its strategy includes rethinking the ownership experience so it is more seamless than with today's gas-powered vehicles. That means making charging an effortless experience at home and on the road, as well as offering full-vehicle over-the-air software updates to enhance capability and features.
"Throwing a charger in the trunk of a vehicle and sending customers on their way isn't enough to help promote the viability of electric vehicles," says Sherif Marakby, vice president of autonomous and electric vehicles. "In addition to expanding our electric vehicle lineup, we are redesigning the ownership experience to ensure it addresses customer pain points that currently hold back broad adoption today."
Ford's BEV manufacturing plan will be more efficient, the automaker claims. The company will halve floor space for final assembly operations and reduce capital investment 50%. A projected 30% improvement in labor efficiency will allow Ford to redeploy employees to do other jobs, including assembly of battery packs (which are normally expensive and complex to ship, the automaker notes).
Ford's new performance battery electric utility arrives in 2020. It is the first of six EVs coming by 2022 as part of the company's $11 billion global EV investment.