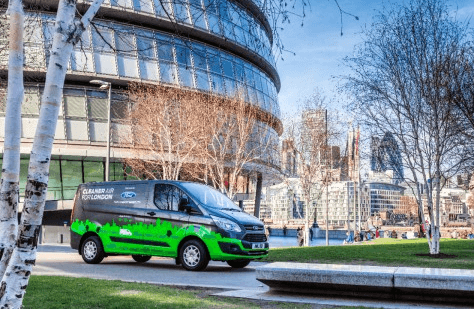 In its latest electric vehicle (EV) news, Ford has confirmed five fleets that will participate in the Ford Transit Custom plug-in hybrid van pilot program in London, as previously reported, starting this fall.
According to Ford, the project is part of a $4.5 billion company investment along with the introduction of 13 new EVs globally in the next five years.
The pilot program is designed to explore how lower-emission plug-in hybrid electric vans could support cleaner air targets while boosting productivity for operators in urban conditions – the toughest working environment for commercial vehicles.
Supported by Transport for London, the project features a 12-month pilot of 20 new Ford Transit Custom plug-in hybrid vans that reduce emissions by running solely on electric power for the majority of inner-city trips. Equipped with range extenders, the fleet is not limited by battery range, making them capable of the longer journeys that may be required by businesses and police and emergency vehicle services.
As reported, the participating fleets represent a cross-section of city-based businesses that will integrate the vans into their day-to-day operations.
The five confirmed fleets are Transport for London, which will use three of the vans for freight duties; the Metropolitan Police, which will use one van marked for second response to traffic accidents and one un-marked as a forensic support unit; the Clancy Plant; Addison Lee; and British Gas.
Using a Ford telematics system, each electric plug-in hybrid van will collect data on the vehicles' financial, operational and environmental performance to help understand how the benefits of EVs could be maximized.
"The Metropolitan police are committed to a sustainable fleet of vehicles," says Jiggs Bharij, head of fleet services for the Metropolitan Police. "We're delighted to be working with Ford on this innovative PHEV Transit trial, working towards a cleaner London."
The Transit Custom plug-in hybrid van is planned for commercial introduction in 2019.