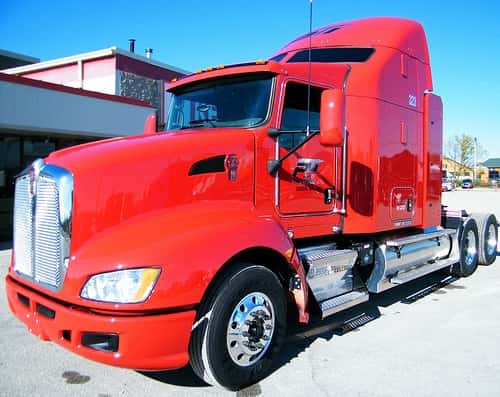 Paper Transport Inc., a regional truckload carrier based in Green Bay, Wis., is adding to its natural-gas-powered heavy-duty fleet with the addition of 10 Kenworth T660 Class 8 tractors this month.
The company, which first tested natural gas trucks last year, is already operating a fleet of 10 compressed natural gas (CNG) T660s with 62-inch AeroCab sleepers. These trucks were delivered this spring, featuring the 350 hp version of Cummins Westport's ISX12 G natural gas engine and two CNG tanks from Agility Fuel Systems that have a total capacity of 115 DGE.
Paper Transport's 10 new CNG Kenworths have the 400 hp ISX12 G engine and 72-inch sleepers.
The company also specified more CNG storage for this order: 100 DGE of CNG capacity behind the cab and 40 DGE of capacity in a side-mounted configuration. These tanks, also from Agility, offer 600 miles of driving range on a single fueling.
'It's been a learning curve, but we're no longer testing,' explains Jeff Shefchik, president Paper Transport. 'We're well on our way to adopting natural gas, which we think will provide us a significant competitive advantage.'
Shefchik says 25% of the diesel-powered trucks in its 400-unit fleet will be converted to CNG by the end of this year.
On the fueling side, Paper Transport will be a key beneficiary – and anchor fleet – of a new CNG station at 1121 Radission St. in Green Bay. Co-located with a Shell station, this natural gas refueling facility was built by Trillium CNG.