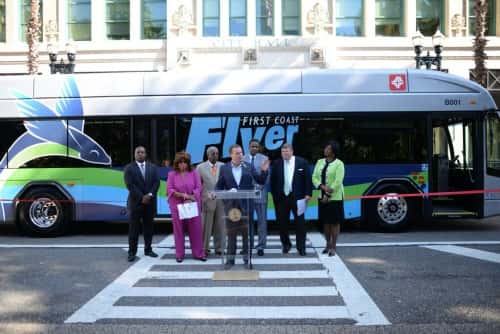 The Jacksonville Transportation Authority (JTA) unveiled its first compressed natural gas (CNG) bus from its new CNG fleet during a press conference Monday, and the Jacksonville, Fla.-based agency expects to save millions of dollars by making a big switch to the alternative fuel.
A total of 23 CNG buses are slated to arrive from Gillig's manufacturing plant in Hayward, Calif., by late November. Eleven of the initial 23 buses will be used for the First Coast Flyer bus rapid transit system, which is planned in five phases. The North Corridor "Green Line" will launch on Dec. 7. When completed in 2018, the Flyer system will cover 57 miles of destination travel.
Ultimately, the agency plans to replace a minimum of 100 diesel buses with CNG models within the next five years or so – a transition JTA anticipates will save $9.2 million over a 15-year period. The agency says it will continue receiving 23-25 CNG buses each year until it reaches the 100 mark.
"The arrival of the new CNG bus marks another milestone for the authority," said JTA Chairman Scott L. McCaleb at the ceremony. "Replacing one diesel bus with a CNG bus is equivalent to taking 21 cars off the road."
"Strong cities have strong transportation systems," said City of Jacksonville Mayor Lenny Curry. "It is incredibly exciting to see the progress our rapid transit system is making with today's unveiling of a more eco-friendly and fuel-efficient bus."
Furthermore, construction of JTA's CNG fueling facility is under way and on schedule. The agency awarded the CNG station project to Clean Energy Fuels Corp. last year, and the public-access station will be completed in December. A grand opening ceremony will be held in January 2016.
"We are excited to join other transit agencies across the nation who have converted to compressed natural gas," said JTA CEO Nathaniel P. Ford Sr. "The Flyer fleet will be comprised of 100 percent CNG vehicles for a ride that is quieter, more fuel efficient and better for the environment."
Photos courtesy of JTA