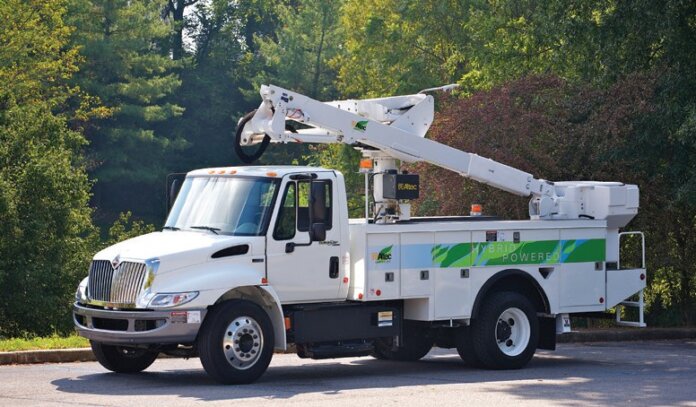 FirstEnergy Corp., an electric utility, says 100% of its new fleet purchases of aerial and light-duty trucks will be electric or hybrid vehicles beginning in 2021.
Transitioning its vehicle fleet to these cleaner-powered options is part of FirstEnergy's larger efforts to reduce greenhouse gas (GHG) emissions company-wide and support transportation electrification efforts in its six-state service area.
Through this commitment to steadily replace fossil fuel-based vehicles, including utility bucket trucks, small pickups, SUVs and other support vehicles, FirstEnergy expects to electrify 30% of its approximately 3,400 light-duty and aerial fleet vehicles by 2030 – representing 1,034 vehicles – with the goal of reaching 100% electrification by 2050. The 30% fleet replacement target has the potential to save more than 3.8 million gallons of fuel from 2021-2030.
"This is an important step in our larger, company-wide responsible replacement program that allows us to replace vehicles in need of replacing with electric models that can be added to our utility fleet without affecting the service we provide our customers," says Steven E. Strah, president of FirstEnergy. "A team of employees tested versions of the hybrid vehicles in the field and determined we could get comparable operational benefits while substantially reducing emissions. We believe our efforts to lead by example in this area will help spur customer adoption of electric vehicles (EVs) in the coming years."
Because fully electric aerial trucks are still under development, some of the new hybrid vehicles will feature plug-in idle mitigation units powered by battery packs for the lift or bucket, along with operating the truck's heating and air conditioning systems. These hybrid aerial trucks significantly reduce the amount of time the diesel engine operates, which also reduces air and noise pollution. Truck manufacturers estimate that utility vehicles idle in park for about 65% of their total engine hours – an hour of engine idle is equivalent to using one gallon of fuel.
FirstEnergy's vehicle replacement process is based on the number of miles and the age of the current vehicles. Starting in 2021, hybrid light-duty vehicles, such as pickup trucks, vans and SUVs, will be delivered to all FirstEnergy utilities, including Ohio Edison, The Illuminating Co. and Toledo Edison in Ohio; Met-Ed, Penelec, Penn Power and West Penn Power in Pennsylvania; Mon Power in West Virginia; Potomac Edison in West Virginia and Maryland; and Jersey Central Power & Light (JCP&L) in New Jersey.
The program was approved by the Maryland Public Service Commission.