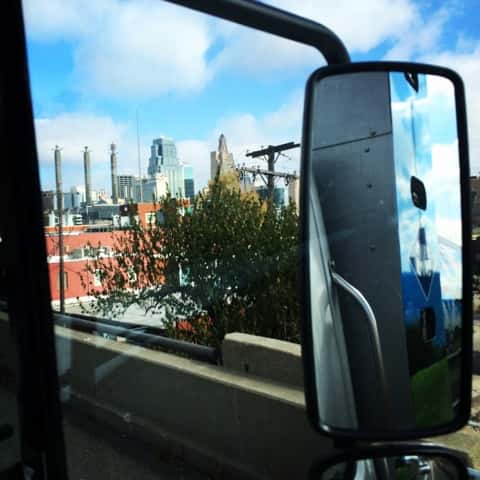 When I got word of the ride-and-drive event at the recent NGVAmerica conference in Kansas City, I knew I wanted to be first in line. I had neither ridden in nor driven a natural gas vehicle before, and I was more than ready to hit the road.
It turns out the only options for a test drive were medium- and heavy-duty vehicles, but my lack of a CDL did not curb my enthusiasm by any means. Becoming a passenger for the ride-and-drive satisfied not only my never having ridden in a natural gas vehicle, but also never having ridden in a ground vehicle of this magnitude (beyond a school/transit bus).
I selected the compressed natural gas (CNG)-powered Freightliner M2 112 offered by Truck Center Companies, a Freightliner dealership in the Midwest. Running on the Cummins Westport ISL G engine, the truck also features an Allison 3000 HS transmission.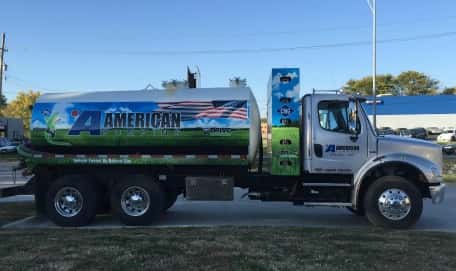 Photo courtesy of Truck Center Companies
This particular vehicle was owned by Omaha, Neb.-based American Pumping, a division of Backlund Plumbing. The company is a customer of Truck Center Companies, which is also headquartered in Omaha and has locations throughout Nebraska, Kansas and Iowa. The dealership's fuel solutions division offers natural gas vehicles, as well as electric, hydraulic hybrid and propane vehicles.
After I climbed into the Class 7 truck, Shain Heiss, fuel solutions manager for Truck Center Companies, revved up the engine for a spin around the city. It was below freezing in Kansas City that day, but the temperature seemed to have no effect on the truck, which started in an instant.
This vocational truck, Heiss explained, stores 75 DGE of CNG and has a range of about 300 miles. The plumbing company, which operates around 15-20 CNG-powered vehicles in its fleet of about double that number, refuels at stations including Omaha's Trillium CNG and I-80 Fuel locations, he said.
I analyzed the vehicle's dashboard and found nothing out of the ordinary, although I am no expert on what the dashboard of any type of medium- or heavy-duty vehicle features. Heiss assured me that nothing was different from that of a diesel-powered one: same automatic transmission, gears, buttons – everything.
As soon as we got moving, I noticed nothing different from what I am used to when I'm on the road. Beyond the obvious increased altitude and width over the road, it felt and sounded as if I were riding in a standard, four-door sedan. Where was that deep engine roar I always hear from trucks whizzing by? Why was the ride – turning, stopping, accelerating – so gentle?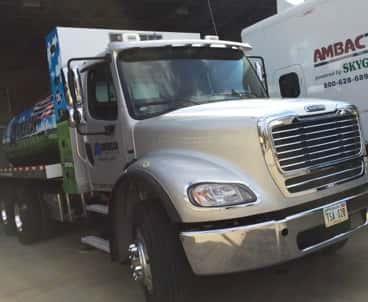 When Heiss then gave me the option of taking the highway or the city's standard roads, I didn't have to think twice: highway, of course. I figured that cruising at a higher, constant speed would be the only way to truly experience the full force of the vehicle; stop-and-go city traffic just wouldn't do it. I was bound to hear some engine roar.
Not so much. We coasted, quietly and without commotion (e.g., not having to steady myself during what I figured would be an aggressive lane change), down the highway for a little while.
It wasn't until we had gotten off the exit and had to slow down and stop a bit rapidly for a changing red light that I brought up my questions about maneuverability.
I had imagined that the driver of a truck this size would need to apply relentless pressure to the brake to stop the vehicle. However, Heiss explained, all he needed to do was give a tap on the air brake to get the truck to stop.
I have ridden in an all-electric vehicle before – which, of course, I expected to be quiet – but the novelty of the quiet, soothing ride was more impressive coming from a non-electric vehicle of this size, which I only know to be loud.
When I looked out the passenger window, the bright-blue "CNG" diamond reflected onto the side mirror and reminded me why this was no ordinary truck ride.