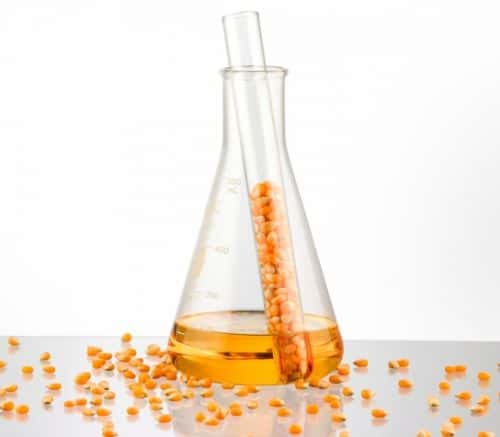 A fresh influx of federal capital – some $62 million – is set to circulate in the commercial-scale advanced drop-in biofuels sector, covering everything from research to fuel production.
The Obama administration, through the 'Blueprint for a Secure Energy Future,' is targeting biofuels to make a steady contribution toward reducing federal agencies' use of traditional diesel and jet fuel. In turn, $30 million is being deployed right now under the auspices of the Defense Production Act (DPA) to help commercialize biofuel substitutes.
The Obama administration says private industry will match the federal funds. On the government side, the U.S. Navy, the U S. Department of Agriculture (USDA) and the U.S. Department of Energy (DOE) are spearheading the initiative. And ultimately, depending on how fiscal-year 2013 budgeting takes shape, the program could expand to $420 million ($210 million federal government share).
'DPA is a critical component of strengthening our national security, and energy is a national security issue,' said Secretary of the Navy Ray Mabus, in a press release. 'Pursuing a viable, domestic alternative is the best way to preserve the budget for operational necessities like training and shipbuilding, and this funding opportunity is an important step in accelerating an economically self-sufficient alternative fuels market.'
Through a standard Funding Opportunity Announcement, the Obama administration is pursuing a two-phased, cost-share approach to rapidly build out a stronger national platform for the production of biofuels. In the first phase, applicants will submit design packages and business plans to establish commercial-scale biorefineries. These proposals are due Aug. 13.
Backing up the work related to biofuels commercialization is the DOE's investment of $32 million to 'drive technological breakthroughs and additional cost reductions in the industry' through early-stage research and development efforts.
The funding includes $20 million to create small-scale biorefineries that will produce renewable biofuels that are direct substitutes for military jet fuel and marine diesel. Non-food biomass feedstocks, waste-based materials and algae are the primary sources of these fuels.
The DOE says the investment is also aimed at assisting government and industry stakeholders in gathering data about the cost of producing alternative fuels from biomass and waste feedstocks.
Another $12 million is being directed toward funding up to eight projects that will investigate methods to produce bio-based transportation fuels and products using synthetic biological processing.
'Synthetic biological processing offers an innovative technique to enable efficient, cost-saving conversion of non-food biomass to biofuels,' the release states. 'These projects will develop novel biological systems that can enhance the breakdown of raw biomass feedstocks and assist in converting feedstocks into transportation fuels.'
Organizations such as the Biotechnology Industry Organization (BIO) have come out with strong support for the funding initiative, saying that 'the domestic advanced biofuel industry can play a huge part in promoting energy security.'
However, government watchdogs such as Free Market America are less enthusiastic.
'With our nation's defense budget set to lose hundreds of billions of dollars over the next 10 years, this floating government boondoggle is a truly astonishing waste of taxpayer money,' said Free Market America executive director Ryan Houck, in a statement. 'It is seven times more expensive to fuel the so-called 'green fleet' than to fuel a traditional fleet.'