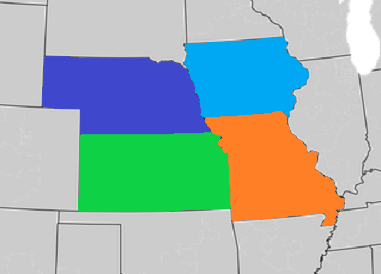 The U.S. Environmental Protection Agency (EPA) has awarded grants to three Missouri entities in support of reducing diesel transportation emissions.
Through a Diesel Emissions Reduction Act (DERA) project, the Metropolitan Energy Center (MEC) of Kansas City, Mo., received $1,052,524 to fund the replacement of two Class 8 long-haul tractors with compressed natural gas (CNG)-powered tractors. The nonprofit administers both the Kansas City and Central Kansas Regional Clean Cities Coalitions.
The MEC project will also replace seven tractors with liquefied natural gas (LNG)-powered tractors and 12 tractor engines with 2019 EPA-certified diesel engines. In addition, the project also replaces a municipal diesel trash hauler with a CNG-powered one, as well as funds 128 electric vehicle parking spaces that will be installed at a private truck/fleet terminal.
According to the EPA, the MEC's funding is designed to reduce diesel emissions and exposure in multiple metro areas in Missouri, Kansas, Iowa and Nebraska.
Next, the EPA awarded a $943,725 grant to the Owner, Operator and Independent Driver's Association (OOIDA) of Grain Valley, Mo., to reduce diesel emissions from trucks in Missouri, Kansas, Iowa and Nebraska. The DERA project will aid OOIDA in its efforts to reduce diesel emissions and exposure in the four-state region by installing 420 auxiliary power units in the association members' trucks.
Lastly, the EPA awarded two grants totaling over half-a-million dollars to the Southeast Missouri Regional Planning Commission (SEMORPC) in Cape Girardeau for two diesel emission-reduction projects. These DERA projects will bolster SEMORPC's efforts to reduce emissions in St. Louis, Cape Girardeau and St. Genevieve County in Missouri.
The commission was awarded a $365,545 grant to replace four older diesel engines in two Mississippi River workboats to reduce emissions and exposure in St. Louis and Cape Girardeau.
In addition, a $195,963 DERA grant was awarded to replace two, old non-highway front loaders in the Mississippi Lime Project. Replacing the front loaders will aid SEMORPC in its efforts to reduce diesel emissions and exposure in St. Genevieve County, says the EPA.