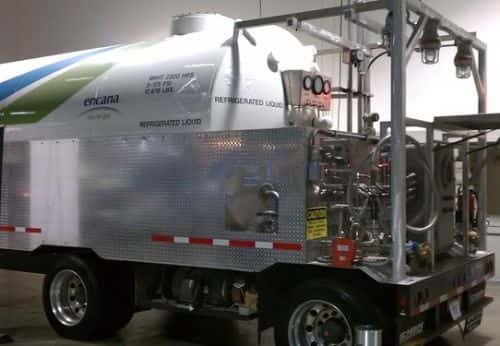 Stabilis Energy, a relative newcomer in the liquefied natural gas (LNG) supply and services arena, is buying 'substantially all of the U.S.-based assets' of Encana Natural Gas Inc.
Encana Natural Gas Inc., a subsidiary of large energy company Encana Corp., has been focusing on the distribution of LNG for various end-use segments, including heavy-duty over-the-road transportation, marine and rail.
'ENGI has a world-class staff that will help us reach our goal of being the leading provider of LNG fuel solutions to high-horsepower operators in North America,' says Casey Crenshaw, president and CEO of Stabilis Energy.
Stabilis, which is planning to fulfill Encana Natural Gas' existing book of business, will also be purchasing Encana's 'fleet of cryogenic rolling stock assets, including storage and regasification trailers, mobile fueling units and other related equipment.'
'Encana is pleased that Stabilis Energy will carry on the outstanding LNG business that our natural gas team has worked hard to build over the past several years,' says David Hill, executive vice president of Encana Corp.
Stabilis is on schedule to open its first LNG production facility in George West, Texas, in January 2015, mainly to serve the high-horsepower needs of oilfield customers in the Eagle Ford shale.
Encana itself will remain a customer of Stabilis Energy for LNG.