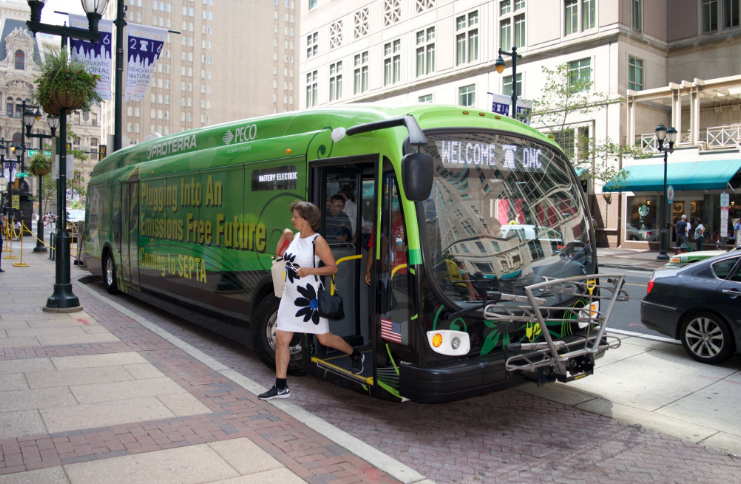 Today, as thousands of Democratic representatives and supporters come together in Philadelphia for the 2016 Democratic National Convention (DNC), the Southeastern Pennsylvania Transportation Authority (SEPTA), PECO and Proterra are offering free test rides on a battery-electric mass transit bus, Proterra's Catalyst, to demonstrate their mutual sustainable transit and energy values.
According to Proterra, a designer and manufacturer of zero-emission vehicles, the project is one component of Philadelphia's commitment to hosting the most sustainable national political convention ever.
Along with Proterra and PECO, SEPTA has extended the invite to residents, delegates and visitors to come to its headquarters at 1234 Market St. to tour and ride the soon-to-be-deployed battery-electric bus on Monday, July 25 and Thursday, July 28.
SEPTA, one of the largest transit agencies in the U.S., says that in addition to the tour and demonstration, it will debut a new lobby exhibit showcasing the evolution of its bus fleet over the years.
To better serve the 3.9 million residents across the five counties in southeastern Pennsylvania, SEPTA says it was awarded a $2,585,075 million grant from the Federal Transit Administration to purchase 25 Proterra Catalyst buses and five overhead chargers that will begin operating on two routes in south Philadelphia in 2017.
"SEPTA is looking forward to adding 25 emission-free electric buses from Proterra," says Pasquale T. Deon, SEPTA's board chairman. "SEPTA already has one of the greenest bus fleets in the nation, with over half of our vehicles operating diesel-electric hybrids. The addition of electric buses furthers our commitment to a sustainable future for our riders and local residents."
PECO, Pennsylvania's largest electric and natural gas utility, has worked closely with SEPTA and Proterra to provide electric vehicle (EV) bus charging infrastructure during the DNC. PECO has committed to supporting the overhead charging installations in the coming months.
In addition to this effort, PECO's parent company, Exelon, is the official zero-carbon energy provider of the 2016 DNC.
"We are pleased to join SEPTA and Proterra in supporting clean, sustainable energy and transportation solutions at the 2016 Democratic National Convention," says Craig Adams, PECO's president and CEO. "As part of the nation's largest energy services company, we are taking a leadership position in advancing the clean electric vehicle market across our region."
"As more cities embrace zero-emission mass transit, we are honored to partner with SEPTA and PECO at such a historic event," says Ryan Popple, CEO of Proterra. "Looking back on how far the electric bus industry has come over the last few years, it is very promising to see buses operating coast to coast. We look forward to gaining more support, as other cities understand that EVs offer higher performance, better economic savings, and a number of environmental and public health benefits."
Separately, the Philadelphia 2016 Host Committee for the DNC has worked with SEPTA to offset the fleet of 400 delegate buses with 125 hybrid buses, which are 30% more efficient than a standard diesel bus. With the hybrid buses, SEPTA says it is reducing regional transportation greenhouse-gas emissions by more than 3:1.