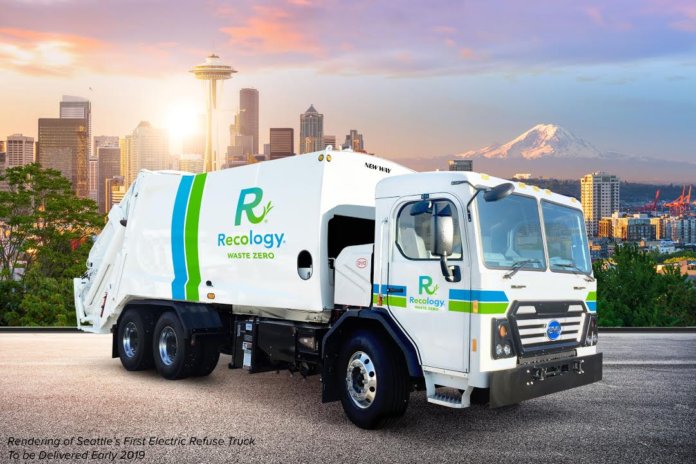 BYD (Build Your Dreams) is delivering two of its 8R Class 8 battery-electric refuse trucks to Seattle.
According to the company, the vehicles will be the first electric refuse trucks to operate in the city of Seattle – as well as the entire Pacific Northwest region. The trucks, fitted with New Way Viper Rear Loader refuse bodies, will be delivered to Recology for use in residential solid waste pickup.
"We are excited to be the first to deploy electric refuse trucks to the Pacific Northwest region, demonstrating that clean, zero-emissions technology is the smart, sustainable choice for heavy industry," says Stella Li, president of BYD Motors.
New Way manufactures a line of refuse equipment, including the Viper mid-compaction Rear Loader bodies, in Scranton, Iowa.
"By combining the innovative design of our Viper Rear Loader body with BYD's zero-emissions battery-electric technology, we can produce the most efficient and sustainable refuse truck available on the market today," notes Don Ross, New Way's vice president of sales and marketing.
Recology, an employee-owned company with more than 100 years' experience in the waste industry, provides service to communities up and down the West Coast. Recology's electric trucks will serve customers specifically in Seattle.
"Together with our industry partners, BYD and New Way, we can be a catalyst to affect positive, sustainable change, setting the stage for what a 21st-century refuse truck should look like," says Derek Ruckman, vice president and group manager in the Pacific Northwest at Recology.
The trucks are scheduled to be delivered in the first half of 2019.