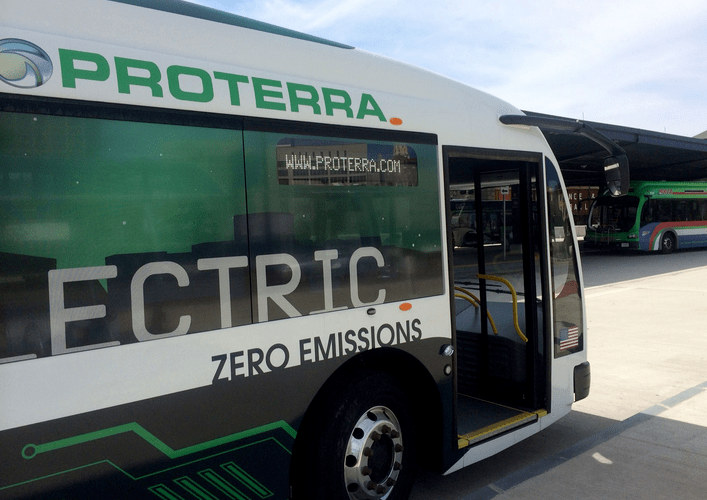 In its latest announcement, electric transportation company Proterra says that it has raised $140 million in a Series 5 round, signaling an accelerated manufacturing phase as the company doubles production to meet growing U.S. demand.
Proterra says it partnered with J.P. Morgan to close the equity funding, which was led by $40 million from an undisclosed investor; led by an additional $60 million from several new investors; and joined by existing board-level investors Tao Capital Partners, Kleiner Perkins, GM Ventures, Constellation Technology Ventures, 88 Green Ventures, Edison Energy Inc. and others.
In September 2016, Proterra's engineering team unveiled what it is calling the world's most efficient battery system for heavy-duty transportation, offering a 350-mile nominal range in the new Catalyst E2 Series, capable of executing any typical U.S. mass transit route on a single charge.
In addition, the company's 2016 sales awards more than doubled from 2015.
"2016 was an exceptional year for Proterra, and the future growth of this company looks just as promising as it hits a tipping point with transit agencies who are embracing the pivot from diesel- and CNG-powered buses to zero-emission mass transit," comments Rob Johnson, chairman of the Proterra board of directors and a partner at Kleiner Perkins Caufield & Byers. "Proterra's new Catalyst E2 Series represents the first direct replacement for fossil-fueled buses. It is more cost-effective, offers positive public health and environmental benefits, and simply outperforms diesel."
With $140 million of new capital, the electric bus maker says it will dramatically accelerate production capacity on both coasts, while continuing to develop its next generation of heavy-duty electric vehicle products.
Specifically, Proterra aims to increase production in its East Coast facility, located in Greenville, S.C., by 300% and initiate production in its City of Industry facility in Los Angeles County. Further, Proterra will hire key personnel in Los Angeles; Silicon Valley, Calif.; and Greenville to support production growth, as well as implement new manufacturing equipment and systems.
"The size of the round and the diversity of our investors reflects what we're seeing around the world as institutions and businesses divest from fossil fuels," says Ryan Popple, Proterra's CEO.