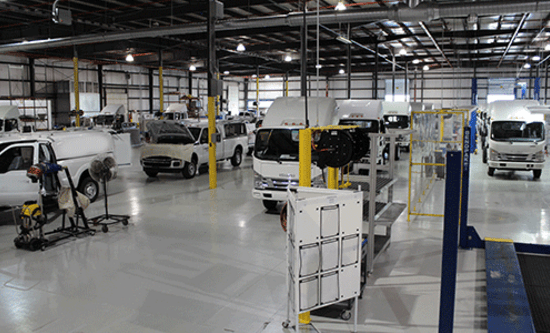 ECO Vehicle Systems Inc., a comprehensive specialty vehicle modifier/upfitter, says it has added an additional 75,000-square-foot manufacturing space to its Progress Industrial Park campus in Union City, Ind.
This additional facility, only a couple hundred yards from its existing 55,000-square-foot facility, not only more than doubles available shop floor space for modifying and upfitting vehicles, but also adds new alternative fuels conversion equipment, including three high-volume assembly lines, an advanced computerized chassis dynamometer, and a high capacity, fast-fill compressed natural gas (CNG) fueling station.
Rob Lykins, founder and president of ECO Vehicle Systems, built the facility in 2004 for general vehicle upfitting by Productive Concepts Inc. until it was leased to IMPCO Automotive from 2010 to late 2016. During that time, the facility was under contract with General Motors, producing high-volume bi-fuel CNG Silverado and Sierra pickups, as well as dedicated CNG Express/Savana Cargo Vans, as part of a GM factory option CNG package. In addition, a wide variety of Ford trucks, vans and buses were also converted to CNG and liquefied petroleum gas at the facility under a Ford Motor Co. QVM program.
ECO Vehicle Systems' combined 130,000-square-foot business is now engaged in custom upfitting of Ford, General Motors, Fiat Chrysler and Isuzu vehicles for fleet customers throughout the U.S. and Canada.
ECO Vehicle Systems installs utility bodies, van bodies, interior shelving packages, ladder racks, tool boxes, snow removal equipment, exterior graphics, bed liners, telematics systems, radios, lighting packages, generators, air compressors and any other equipment that fleets need to customize their vehicles to meet their needs.
ECO Vehicle Systems notes that it continues to offer a complete line of alternative fuels options, including CNG, propane autogas and hybrid electric conversions.
A complete lineup of upfitting packages is also offered for law enforcement vehicles, including all emergency lights and sirens, communication systems, computer stands, exterior graphics, prisoner restraint systems, and firearm security systems.
Stating that ECO Vehicles Systems is an ideal solution to fleets needing high-quality workmanship, short lead times and quick turnaround, Lykins says ECO Vehicle Systems' rural Indiana location equates to low overhead and operational costs, resulting in very competitive pricing when compared with some of the larger, more traditional upfitters, convertors and vehicle modifiers in the commercial vehicle and law enforcement marketplace today.
ECO Vehicle Systems says it also has drop-ship and ship-through relationships with all major vehicle manufacturers, as well as a strategic alliance with a major vehicle logistics company also located in Union City, making it quick, easy and economical to move fleet vehicles from OEM factories to ECO Vehicle Systems and on to the end user or dealer locations.